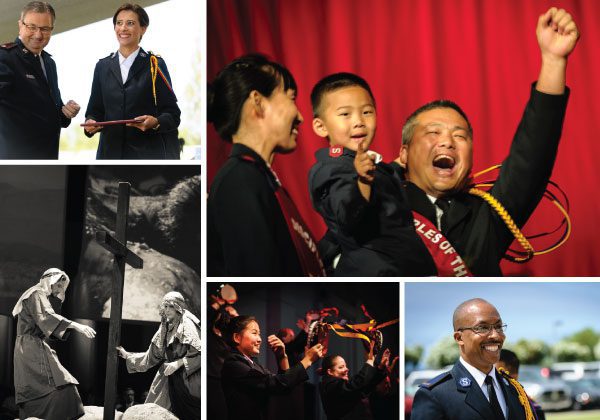 2014 Commissioning focuses on the cross
The Western Territory added 57 new officers to the ranks of The Salvation Army following the 2014 Commissioning weekend, led by territorial leaders Commissioners James and Carolyn Knaggs and guest leaders General Paul and Commissioner Kay Rader (Ret.).
In the lead-up to commencement, New Frontier Chronicle went to class to experience the life of a cadet and bring you an inside look to a College for Officer Training (CFOT) at Crestmont education along with a few little-known facts about the campus.
Once classes end, the cadets' two weeks preceding commissioning make for a hectic final stretch. A Kidmissioning also recognized the cadets' children.
On June 13, Session President Cadet Arwyn Rodriguera gave the commencement address before Kay Rader spoke to the Disciples of the Cross.
"Today marks an important turning point in your lives," Rader said. "Let the Holy Spirit design your destiny. Make your daily prayer: 'Holy Spirit, stay with me. What you will, I want to be.'"
The Silver Star Banquet allowed cadets to honor their parents and mentors, and Cadet Joanna Wang spoke on behalf of the session.
That evening roughly 2,600 people filled the Pasadena Civic Auditorium for a concert with Grammy-Award winning singer-songwriter Amy Grant.
 "It feels good to use the talents that God gave us to celebrate life…and have a heart of gratitude," Grant said. In a final number, she sang "Amazing Grace" alongside the Western Territory's Staff Songsters and Staff Band.
On June 14, a number of Spanish seminars challenged Hispanic delegates to use faith for effective leadership ahead of a multicultural celebration that included performances from mariachi, to hula and Korean fan dance.
 "In the kingdom of God, we are not identified by our occupation, by what we do, or where we come from, or what our lives have been in the past; we are not identified by our ethnicity or our racial background," Paul Rader said at the event. "We are identified by our relationship with the Lord Jesus Christ."
 A Hall of Faith showcased the full spectrum of Salvation Army ministry, from prison outreach to disaster response with opportunities for fellowship and networking along with refreshments and musical entertainment. The event carried into "The Pathway of the Cross," a theatrical portrayal in the round of the life of Jesus.
On June 15, the cadets were commissioned and ordained as lieutenants in The Salvation Army and Lt. Caleb Montes urged his session to believe. In his message, Paul Rader reminded attendees that Christ took on our suffering on the cross and through him we are healed.
"There is hope from our questioning and despair," he said. "The promise of the cross is pardon. The promise of the cross is a promise of a new purpose. We have a world to save for Jesus's sake. Jesus needs soldiers and officers in this battle."
Forty-five Western Territory officers were recognized for long service at the start of the afternoon appointment service.
 Following Lt. Dawn Preston's delivery as the session representative speaker, Lt. Colonel Check Yee, O.F., gave the charge to the cadets.
"What is love? It's a word we talk about every day," Yee said. "As a Salvation Army officer, love to me is what William Booth said to his son Bramwell regarding the homeless under the London Bridge: 'Go and do something.'"
Fifty-four cadets were appointed to serve across the Western Territory, and three cadets from the Denmark Territory were appointed by territorial leaders Colonels Knud David and Lisbeth Welander to serve there.
New Frontier Chronicle | Special Edition
2014 Commissioning Photos
[gss ids="8078,7850,7871,8080,8071,7879,7867,7890,8003,7907,7905,7903,7914,8000,7848,7888″]
Check out more photos at https://www.pics.usawest.org