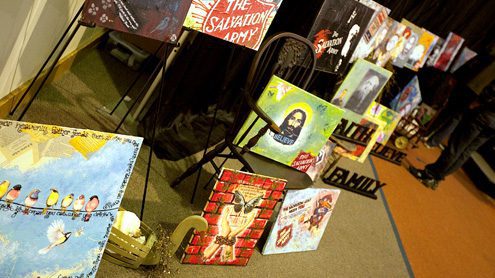 Using arts to glorify God
Territorial Worship Arts Retreat focuses on creativity.
By Mejee Lutcher
Nearly 130 delegates representing all 10 divisions of the Western Territory gathered Feb. 15-17 at Camp Arnold in Eatonville, Wash., for the Territorial Worship Arts Retreat.
The event included music, visual art, dance and drama with one purpose—to use worship arts to glorify God.
Guest speaker Brian Moss—director of music, worship and arts at John Knox Presbyterian Church in Seattle and a board member of Christians in the Visual Arts—identified who God was, who we are and who we are becoming in order to understand our attitudes in worship. Moss also led a workshop on developing a worship language for faith communities that transcends generational divides.
SPARK theater + dance, a Minnesota-based artistic group, presented several numbers. "The Evolution of Sam," a one-man show about a romantically challenged bachelor looking for love in all the wrong places, prompted delegates to question where they find value and identity. Corey and Betsy Mills, co-artistic directors of SPARK, led workshops on dance and drama in ministry.
"Jesus is the center of everything," said retreat staff member Hannah Danielson of the Pasadena Tabernacle Corps in Southern California. "We need to be confident but remember that what we do is not for ourselves."
Everyone offered different abilities and "unified them as the body of Christ," Corey Mills said.
"I enjoyed watching everyone share the gifts and talents that God has given us," said Lt. Chris Golden of Southern California's Inglewood Citadel Corps. "We need to do what we can to win the world for Jesus."