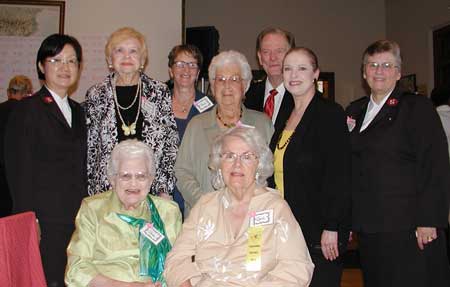 Transforming treasures and lives
San Francisco ARC holds 2nd Annual Transformed Treasures event.
By Cindy Engler
The San Francisco Salvation Army Adult Rehabilitation Center (ARC) held its 2nd Annual Transformed Treasures Silent Auction and Luncheon this spring at Patio Espanol in San Francisco.
The 280 guests—supporters, artists, sponsors, territorial and local Salvation Army officers and employees, and the Pinehurst Women's Auxiliary—could bid on more than 200 items, all "transformed treasures" from the Army's family stores. Hosted by longtime Army supporters and local celebrities, Terry Lowry and Fred LaCosse, the event raised over $10,000 for Pinehurst Lodge, a 24-bed, women's rehabilitation facility.
"What an amazing turnout!" said Major Katherine Hodder-Reed, associate Bay Area coordinator for The Salvation Army ARC. "Transformed Treasures provides us the opportunity to connect with so many people within our community and show them the amazing transformations that take place regularly at Pinehurst. Our hope is that our guests leave the luncheon feeling uplifted, positive and hopeful about what The Salvation Army is doing here in the Bay Area."
Volunteering their time and talent, 89 artists from several counties converted the family store items into pieces of art, clothing and home décor.
"It's amazing and impressive what the artists created by finding items and materials at a family store. I'm definitely not going home empty-handed," said guest Catherine Naylor.
During the event, Major Stephanie Chang, Western Territory ARC Command director of special services, presented the Lifetime Membership Award to four members of the Pinehurst Auxiliary: Carol Cannellos, Rita Heiser, Jane Lefferdink and Carolyn Marcus. They have close to 100 years of combined service.
"The Lifetime Membership Award recognizes these women for the guidance, support and encouragement they've supplied to all the women who have walked through the doors of Pinehurst for many years," said Fran Bruni, president of the Auxiliary. These four ladies, and the entire Pinehurst Auxiliary, are proud to support The Salvation Army Adult Rehabilitation Center and Pinehurst."
The Pinehurst Choir, led by Major Dawn Rocheleau of the San Francisco Kroc Center, performed "Glorious," and Pinehurst alumni gave their testimonies.
Patty, who completed the program in December 2005, said, "During my time at Pinehurst I transformed into the person that I am today—somebody who is full of happiness, love and joy. I credit who I am today to my relationship with God, a lot of hard work and The Salvation Army Adult Rehabilitation Center Pinehurst Program. I am a transformed treasure."