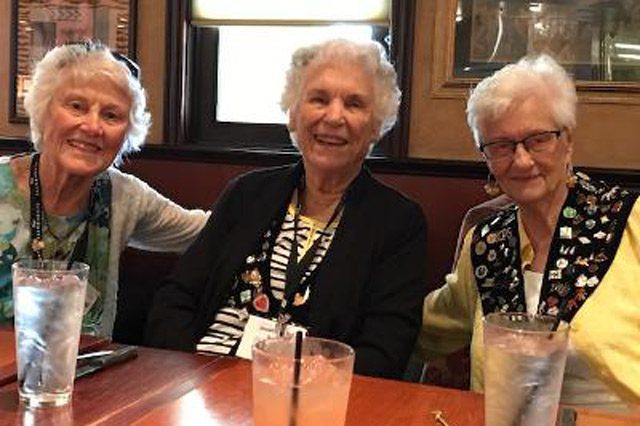 TOPS helps Grass Valley residents get healthier 
The Salvation Army hosts the customized weight loss program in its fellowship hall.
By Vivian Lopez – 
It's been around 20 years since the Take Off Pounds Sensibly (TOPS) program started meeting at The Salvation Army in Grass Valley, California. And in that time, there have been hundreds of pounds lost among members and countless lives changed.
TOPS, which is part of a national program, takes place weekly at the corps' fellowship hall for meetings that include weigh-ins, a poll of who has lost or gained weight, and speaking sessions on different weight loss and health topics. It is low-cost at only $5 per month, and an additional $32 annual fee paid to the national TOPS organization.
There are currently 15 members. The program does not follow a specific diet, but rather dietary guidelines and exercise recommendations, tailored to the individual participants.
"It's whatever works best for you," said Sharon Rodriguez, Grass Valley TOPS program leader. "Our goal is to lose weight and keep it off."
Participants who achieve their weight loss goal in the program are considered part of the Keeping Off Pounds Sensibly (KOPS) group, focused on maintaining the goal weight they worked so hard to achieve.
"That's our goal is to have everybody reach their goals—their goal weight—and to keep their weight off once they reach it," she said.
Rodriguez hopes participants take away, "a knowledge of better eating habits, and a camaraderie of having somebody there to help you."
"If you're having a bad day, you've got somebody you can call," she said. "It's a proven fact, especially for women, if they're in a group atmosphere, they tend to lose weight better and to keep it off."
Grass Valley Corps Officer Captain Cristian Sibaja enjoys seeing the bonds that participants have formed in TOPS. Sibaja said the longstanding relationship between TOPS and the Grass Valley Corps works because, "The Salvation Army is for the community in the community."
"They've created like a friendship group and I love to see that," Sibaja said. "The support they get from each other is amazing."
Rodriguez said her TOPS group is unique in that it primarily serves older adults in their 70s and 80s, meeting a great need in the community.
"A lot of times, it's important to keep their weight down for health reasons and to be motivated to get out and do some light exercising," Rodriguez said. "We give them the options and ideas on what to do. Some of them are on walkers, but they can do exercise in their chairs. The big thing is getting them out and about."
And the response is positive, as several members have attended for 10 to 15 years or more.
"They keep coming back, so it's working for them. It keeps them from gaining weight…and it's a motivator," she said. "It makes me feel very good. It makes me feel like I'm doing my job."
Among the participants who have seen success and transformation in this program is Betty Klein, who lost 53 pounds and achieved her goal weight in the program. She's been attending for almost as long as it has existed at the corps, and has remained as a KOPS member to maintain her weight and healthy lifestyle.
"I got involved when I had retired and moved to Grass Valley, and put on a lot of weight," Klein said. "It's helped me. It's made me healthier."
Along her weight loss journey, Klein was diagnosed with Diabetes. But she was able to get her condition under control by following the program guidelines, adopting a balanced diet, and receiving the support of her fellow participants. She hasn't needed to take medication for 14 years.
"It's not about being skinny again because we're too old for being skinny…It's about being healthy," Klein said. "I don't want Diabetes again. It's beneficial because you get to talk to people who have the same problem you have."
It's those people who have kept her coming back for nearly two decades.
"Some of them have lost the weight, and a few of them have not. But by going to the meetings, it encourages them to keep this weight off and to try to exercise," Klein said. "People need people. You think you can do this on your own…but the people who come to this program cannot do it on their own."