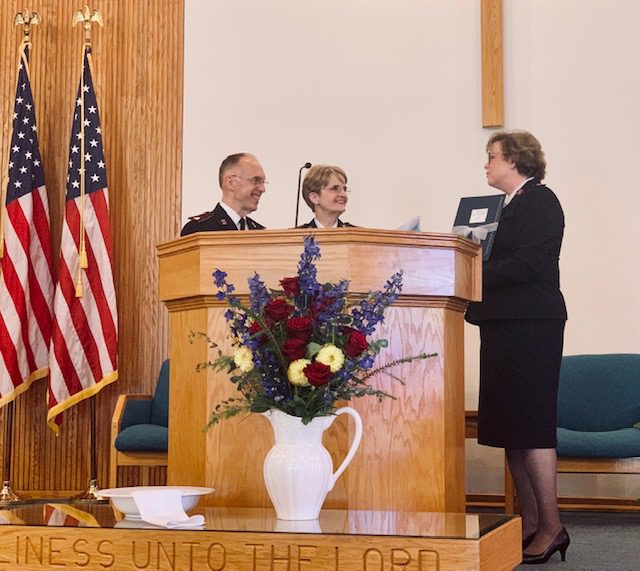 THQ wishes Hodders 'farewell' at chapel service
Western Territorial Headquarters (THQ) officers and employees said "farewell" to Territorial leaders Commissioners Kenneth G. and Jolene K. Hodder during a June 16 chapel service at the College for Officer Training at Crestmont, led by Colonels Douglas and Colleen Riley. The Hodders assume new appointments July 1 in Alexandrian, Virginia, as USA National Commander and National President of Women's Ministries.
Before chapel, during a time of refreshments served outdoors, Doug Riley announced that it was also Kenneth Hodder's birthday. Jolene Hodder helped her husband cut the cake, and everyone sang "Happy Birthday." Kenneth Hodder said he was most excited about now being able to get the National Park Pass.
Colleen Riley opened the meeting in prayer after saying, "It's a great day… Today we celebrate your ministry here and what you have done for the territory." She called forward Captain Christina Arnold to lead the first song, "I'll Stand For Christ," noting that Arnold and her husband, Captain Jared Arnold are also taking new appointments as Olympia, Washington Corps Officers, but that Christina Arnold will also continue in her THQ role as Territorial Director of Special Needs Ministries, and she commended her for her commitment to that ministry.
Assistant Secretary for Program Martin Hunt and Territorial Director of Corporate Engagement Maria Todaro shared words of farewell. 
"Your time here in your home territory will be remembered by the energy in which you have led," Hunt said. "You've brought your experiences from around the world, your knowledge of the Army and your passion for making us all better, and in doing so you've enriched our lives… Thanks for keeping Christ in the center of all you've done."
Todaro acknowledged the Hodders for being wonderful, warm people who exude the love of God, and who, in their time here, never shied away from doing hard things. "As a team, your actions truly inspire people to dream bigger, to do better and to do it all with love and kindness," she said. "[National Headquarters] is so lucky you're coming to them, and I keep telling them that on every conference call we have."
In his devotion, Doug Riley hearkened back to one of Kenneth Hodder's early chapel devotions when he first came to the West as Territorial Commander; Hodder spoke for several minutes on how a pencil was built. Riley likened this to a person—how God can take something so intricately made and use it, stamping it "his" for his purpose. 
"God is in us, God is for us and God is with us," Riley said. "And I say 'that's wonderful' with the Ken Hodder smile." He then quoted Matthew 9:29: "According to your faith let it be done to you."
Territorial Program Secretary Lt. Colonel Lisa Smith presented the Hodders with three gifts: a basket of cards from THQ staff, a certificate for dinner out at a restaurant in Alexandria and the promise that "we send you with our prayers for your next responsibilities as our national leaders."
In her response, Jolene Hodder spoke words of appreciation and love for everyone at THQ, especially those working behind the scenes who aren't often recognized. "I know some of you just think it's a habit with me when I say, 'Oh, I love you,' but those of you who know me well know that I really do love each and every one of you," she said. "I would not be the woman I am today if I did not know you."
Before giving his response, Ken Hodder presented Lisa Smith with her Long Service certificate, recognizing her 25 years as a Salvation Army officer. He then noted that he has worked at Crestmont on and off for 45 years, from the time he was 17 years old; it's a special place for him.
Hodder spoke of Mary Churchill's observation of the devastation occurring during the London blitz in World War II. She watched it from a rooftop with the night sky behind it. "She thought that there was an astonishing distinction between what was happening immediately in front of her and the beauty that was more eternal behind it… She called it a mixture of 'the splendid and the divine,'" he said, adding that her resolve was strengthened to work with her father, Winston Churchill, for victory in WWII. Hodder compared this to what The Salvation Army faces today—challenges, difficulties and imperfections—emphasizing that if God's people stay strong, God will see them through. He closed with Paul's words from Galatians 6:9–10: Let us not become weary in doing good, for at the proper time we will reap a harvest if we do not give up. Therefore, as we have opportunity, let us do good to all people, especially to those who belong to the family of believers.
Territorial Secretary for Communications Lt. Colonel Kyle Smith let the song, "I'll Go in the Strength of the Lord." Terry Hughes, General Counsel for the Western Territory, gave the benediction.