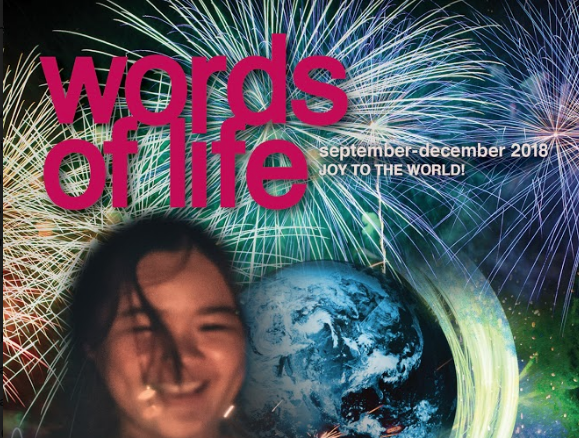 The taste and spark of joy  
An excerpt of the forthcoming 'Words of Life'
By Beverly Ivany, Major –
Taste and see that the Lord is good. How happy is the man who trusts in Him! (Ps. 34:8 NLV)
Joy is a wonderful word, isn't it? Having joy deep down in our heart; to experience joy, be filled with joy—there's nothing like it! Then, to "taste" what joy is all about: exhilarating, exciting. For true joy involves God; we know and experience something of his grace, his mercy, his everlasting love.
But sadly, sometimes joy seems lost to us. We get caught up in the treadmill of life, with our various routines and duties. The "taste" somehow becomes bland. And when tensions are thrown in, or strained relationships, even grave concerns about health and well-being—then the taste can become sour, even bitter.
A Japanese woman, Marie Kondo, wrote a book, "The Life-Changing Magic of Tidying Up" (Vermilion, 2010), relating to decluttering. It has sold more than 2 million copies worldwide. Her basic principle is to hold up any particular item and ask, "Does it spark joy?" If yes, keep it. If not, give it away. In a spiritual sense we are to do likewise. If what we're holding onto are things like fear, anxiety, grudges or anger, we must ask: do they "spark joy"? They shouldn't! So we are to throw them all away. Instead, look to the Lord and … be filled with joy (Ps. 34:2).
David wrote this psalm after pretending to be insane in front of King Achish, who then let him go (see 1 Samuel 21:10-15). David thanks God for delivering him from King Saul—and I believe he wants us to also "taste and see that the Lord is good."
If we are intentional in throwing away all the junk in our lives that causes clutter, matters that try to steal our joy, we will look at things that spark joy—things that come only from the Lord. Then will we be at peace, as David says: Do what is good. Look for peace and follow it (Ps. 34:14).
Pray:  I so want to taste of your joy, Lord! To have that spark of joy that is only possible with you. Thank you, Jesus!
See more from "Words of Life," a daily devotional book produced by International Headquarters, in the forthcoming September–December edition and at salvationarmy.org/ihq/wordsoflife.