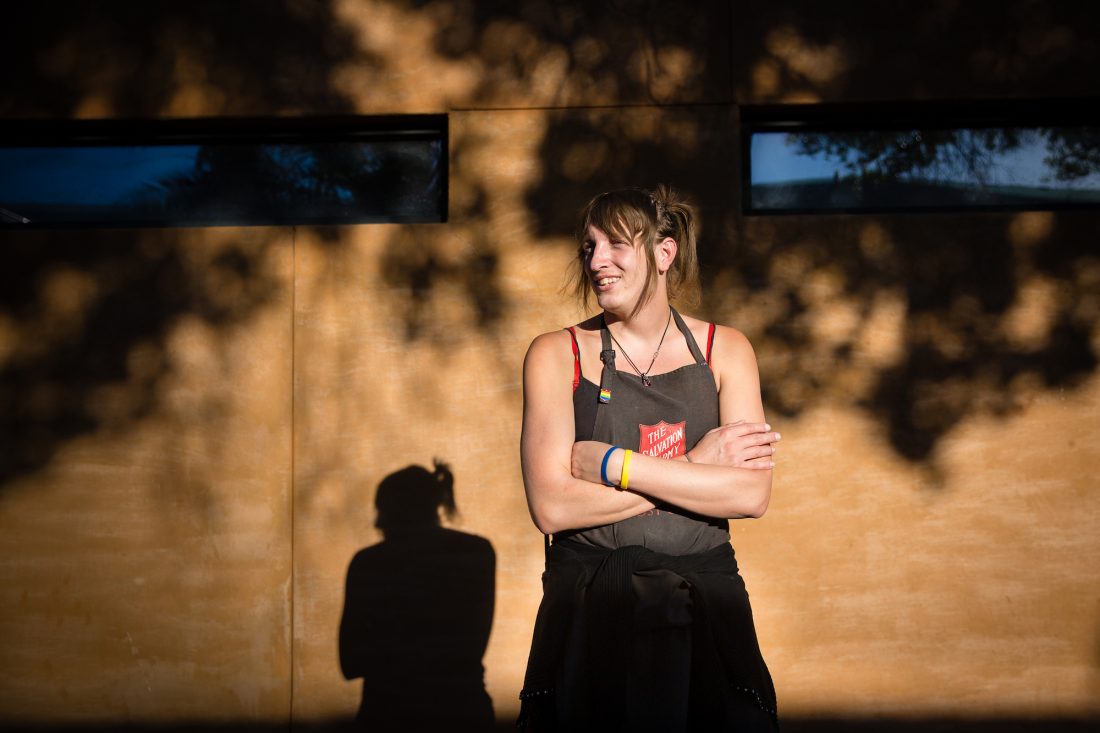 The Salvation Army's LGBTQ Safety Dorm fills shelter gap in Las Vegas
Every morning Reina Ayanami wakes up at 5:30 a.m. in the LGBTQ Safety Dorm at The Salvation Army's Owens Campus in Las Vegas. As people leave the dorm in the morning, she begins cleaning as a volunteer. That way, when the next group of individuals come for a safe place to spend the night later that day, a bed is ready for them.
It's a job she's done for about two years—helping with laundry, sweeping the floors, cleaning beds and showers before helping people get settled in the dorm for the night. She got involved after noticing the prior volunteers weren't cleaning well, and asked if she could help.
"I'm not used to ever being in charge of anything, and then they're like, 'You're gonna be the lead volunteer for this dorm,'" she said. "It's been neat, though, because I've never had a chance to do that before."
Sweeping and mopping in the morning remain among Ayanami's favorite tasks. "I get alone time and it's just great," she said. "I'll put on whatever on TV as I mop and it's just relaxing."
Often those shows look like anime. Ayanami, who identifies as transgender female, crafted her name based on one of her favorite anime series, "Neon Genesis Evangelion." She came to the dorm about five years ago after a long housing journey that involved some of the shelters neighboring the Owens Campus—an area referred to in Las Vegas as the Corridor of Hope.
At one shelter, she was asked about her comfort level with the shower situation there. She explained that she would be fine, but that others might not be, which raised questions.
"They were like, 'Why?,'" she said. "'I never had surgery… so I had to explain that I was trans. And that's when they found out about the Safety Dorm. They called around and asked around and found out about it."
The Salvation Army's LGBTQ Safety Dorm was opened initially as a safe place for transgender men and women to stay in 2013. Since then, the dorm has doubled in size to 18 beds and has broadened its reach to all who identify as LGBTQ. It remains a safe place to sleep for those experiencing homelessness in Las Vegas.
"We just want to create that safe space…That's very important for us," said Las Vegas Director of Social Services Juan Salinas. "We work with other agencies who are aware that we have that available…We have made that connection that now we just get texts—'Hey, I have somebody' 'Yeah, send them over'—and we'll make sure that they're welcome."
One of those agencies is The LGBTQIA+ Community Center of Southern Nevada, referred to as The Center. Salinas and The Center's Director of Community Engagement and Advocacy Holly Reese have worked for several years to create a strong partnership, and The Center has provided training, consulting, resources and has hosted holiday events.
Additionally, The Center has an advocacy training program, The Center Advocacy Network (CAN), which is a nationally credentialed program that trains advocates to serve victims of crime and addresses issues to help LGBTQ and other underserved communities.
"We have several people from The Salvation Army in the training, and it is wonderful the commitment that the people have made to attend the training and to learn in depth the problems and how to be able to help people within the community," Reese said. "We think of that as planting seeds to be planting trees in other agencies so that people from our community can go to places in addition to The Center for help."
And the Safety Dorm is one of those places. While Reese notes the dorm is not the most ideal setup, due to its separation from the rest of the shelter's clientele, it provides a much-needed service.
"It is a step and a movement toward what we need to do, and it has enabled our clients to feel a level of safety," Reese said.
In Southern Nevada, there are not many shelter options for LGBTQ people, Reese said. Another agency provides long-term housing, but there is usually a waitlist. Grant funds are available for those who have been victims of crime. If an individual is a victim of domestic violence, and if they are women, they can go to a domestic violence shelter.
"So if they don't fall within those parameters there is a huge gap for where will they go and how can they help them?" Reese said. "So for The Salvation Army to have a place where they can go and have a bed and get into other services…There really isn't anywhere else that is providing that opportunity."
Living on the street is dangerous for anyone, but for LGBTQ people it can be much more so. A study by the Williams Institute at UCLA School of Law found LGBT people are nearly four times more likely than non-LGBT people to experience violent victimization, which includes rape, sexual assault and aggravated or simple assault.
"We are more vulnerable," Reese said.
Many of the dorm's residents have stories from the street. Prior to coming to the Safety Dorm, Ayanami lived in a tent for a year and a half after facing a series of housing challenges.
"Sometimes, depending on where you slept, you had to worry about cops coming in and making you move or arresting you… It was stressful," she said. "Sometimes you have people just trying to start things with you for, like, no reason. I've been punched in the face a few times. My nose is cracked 'cause I got hit in the nose by a pole."
After living briefly with a friend, she went to the shelter where she was connected with the Safety Dorm. She is working with a case manager toward her next steps—her goals focus on coping with anxiety and finding employment. There is no time limit to these services—everyone who receives case management is on their own timeline.
"There's people, they just want to stay in the Safety Dorm, and that's fine. Or there are some that when they come in, they eventually want to find a job, but they're working through a process, and we try to be there for them with that," Salinas said. "There's some clients that come in that are just not accepted by family. And so they throw them out on the street, because of their status. And so we just want to be there with them in the process."
---
Do Good: