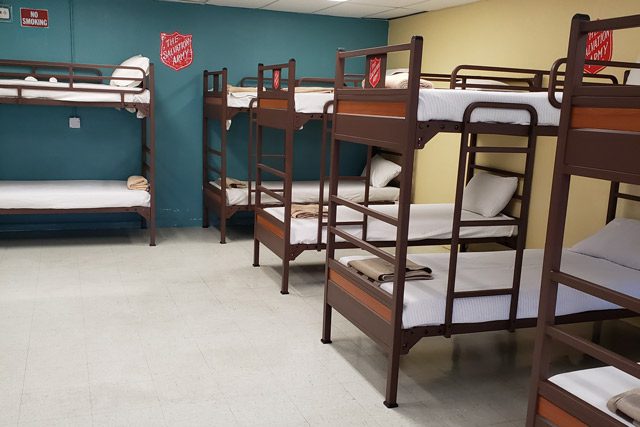 Salvation Army doubles capacity at LGBTQ safety dorm
As homelessness continues to rise in Las Vegas, The Salvation Army is doubling its efforts to give people a safe place to sleep at night—especially members of the LGBTQ community.
The Las Vegas Safety Dorm celebrated a grand reopening this month, unveiling nine new beds designated for people who do not feel safe in other dorms. This includes gay, lesbian and transgender individuals, who often face a greater risk of violence and attacks.
 "I think for somebody who is transgender, the most important thing is to be sensitive to their needs," Las Vegas Social Services Director Juan Salinas said. "We try to be very respectful and very sensitive to whatever they may need."
The dorm opened in 2013, but organizers put a particular emphasis on providing a safe place for transgender men and women in recent years. An $8,000 donation allowed The Salvation Army to convert its nine existing beds to bunk beds, doubling its capacity and the number of people it could help on a daily basis.
The Las Vegas chapter of Echelon, the emerging professionals arm of The Salvation Army, adopted the safety dorm as one of its main causes. Members bought new sheets and curtains, painted the dorm and placed small affirmation plaques on the walls.
"They really spruced it up," Las Vegas Citadel Corps Officer Major Randy Kinnamon said.
Kinnamon said there are 5,000 to 6,000 homeless people living in Las Vegas and only 1,000 beds available through different providers. The problem became more acute when city council members voted last year to make it illegal for people to sleep on the street.
That's why the expansion of the safety dorm is so significant, he said.
"Having nine more beds might not seem like a lot, but that's nine more people that can come off the street," Kinnamon said.
It's especially important to provide a safe place for people who otherwise are targeted and abused, he said. 
The expansion of the safety dorm also helps The Salvation Army show the LGBTQ community that it's ready and willing to serve and support them when they are struggling. 
"We've proven that we care and we want to help," Kinnamon said.  "That's something I don't want to lose."
Salinas said he is proud of the relationship he and others have built with the Gay and Lesbian Community Center of Southern Nevada. It's those personal relationships, he said, that really help make a difference and expand the services the Army is able to provide. 
"The important thing to me is to meet those needs without discrimination," Salinas said. "For the Center and other organizations to be willing to make these donations, I think that speaks a lot about our relationship with the LGBT community."