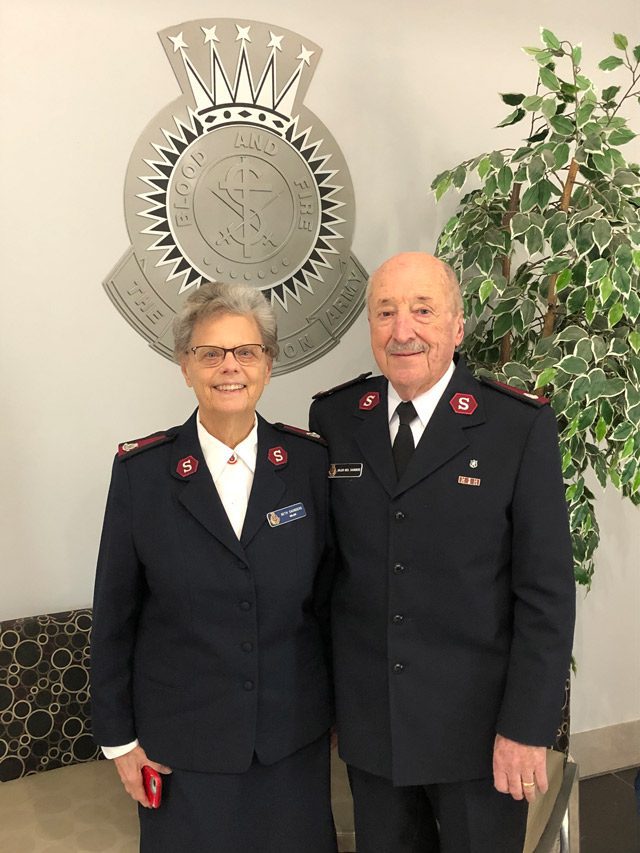 The Salvation Army Officer Wellness Program improves health in retirement
Healthy, fit and ready to serve God
By Karen Gleason –
Major Neil Saunders has a new wardrobe—not because he had the urge to go on a shopping spree, but because he's had so much success on the wellness journey he and his wife, Beth, began about two years ago. They've found support along the way from both The Salvation Army Officer Wellness Program (OWP) and from "WW," the re-imagined Weight Watchers program that focuses on overall health.
For Saunders, the quest began when his doctor suggested he lose weight. 
"Also, there was the shortness of breath either [when] walking—forget running—and playing in the band," he said.
Beth Saunders said she knew her weight was too high for her height—5 feet—and she was tired of seeing how she looked in photos.
The couple started with Weight Watchers in February 2018 and achieved lifetime membership in 2019. They've both received high praise from their doctors.
"I've lost 25 percent of my body weight," Neil Saunders said. "When I began I was close to 200 pounds; now I'm close to 150." He now weighs less than he did at age 18.
Beth has had similar results.
"I lost 25 pounds and am maintaining the weight lower than the WW goal for me," she said.
Neil Saunders said he recently saw his doctor, who said, "I don't need to see you for about a year; you're fine." Not bad, he said, considering he recently celebrated his 85th birthday.
"This is not peculiar to us," Neil Saunders said. "It can be done by anyone, but you've got to have guts, internal fortitude, to make it work… You don't need a pill. All you need is motivation and to stick with it."
The journey does have its challenges, such as controlling food portions when eating away from home and exercising outside when it's hot.
"We try to walk every day, Beth Saunders said. "In the summer we purposely walk inside large stores and the mall."
Their food habits have changed, too. 
"Now we eat green salads, fruits and very little sugar in the diet—no sodas, either," Neil Saunders said. He also shared their weekly food costs over the past three years: $69.61, $66.11, and most recently, $35.43. "I keep track of it," he said.
The Saunders are an example of how anyone can work to improve their health, regardless of age. Healthy, fit officers can continue to serve God well into retirement, when their experience and wisdom can benefit others.
"[The OWP] encourages officers to recognize the importance of their own health as they minister and support those with whom they come into contact," said Dawn Smith, from Officer Health Services at Western Territorial Headquarters.
Smith thought of the Saunders immediately when asked about the program and its notable successes.
"We now allow retired officers in the program [since January 2018] and Neil and Beth Saunders have achieved quite a lot in terms of improving their health," Smith said. "Neil tells me that he also tries to encourage fellow retired officers to take care of their health."
The Saunders said that people at their corps, Sun Cities West Valley Corps in Surprise, Arizona, are beginning to talk about their own weight loss and are declining refreshments and large portions at corps functions.
According to Smith, the OWP supports officers who want to maintain or improve their health by following up with them regularly to monitor their progress. The program reimburses fitness-related expenses up to $650 each year of enrollment for items like gym or WW memberships, running or walking shoes, home fitness equipment and Fitbits. The Saunders also got new uniforms through the OWP.
"It's a great deal," Smith said.
Meanwhile, the Saunders plan to stick with their program. 
"We will continue attending WW meetings [regularly] and continue eating healthy and staying connected to the Territorial Headquarters Officer Wellness Program," Beth Saunders said, with Neil Saunders adding, "I am determined to maintain this loss."