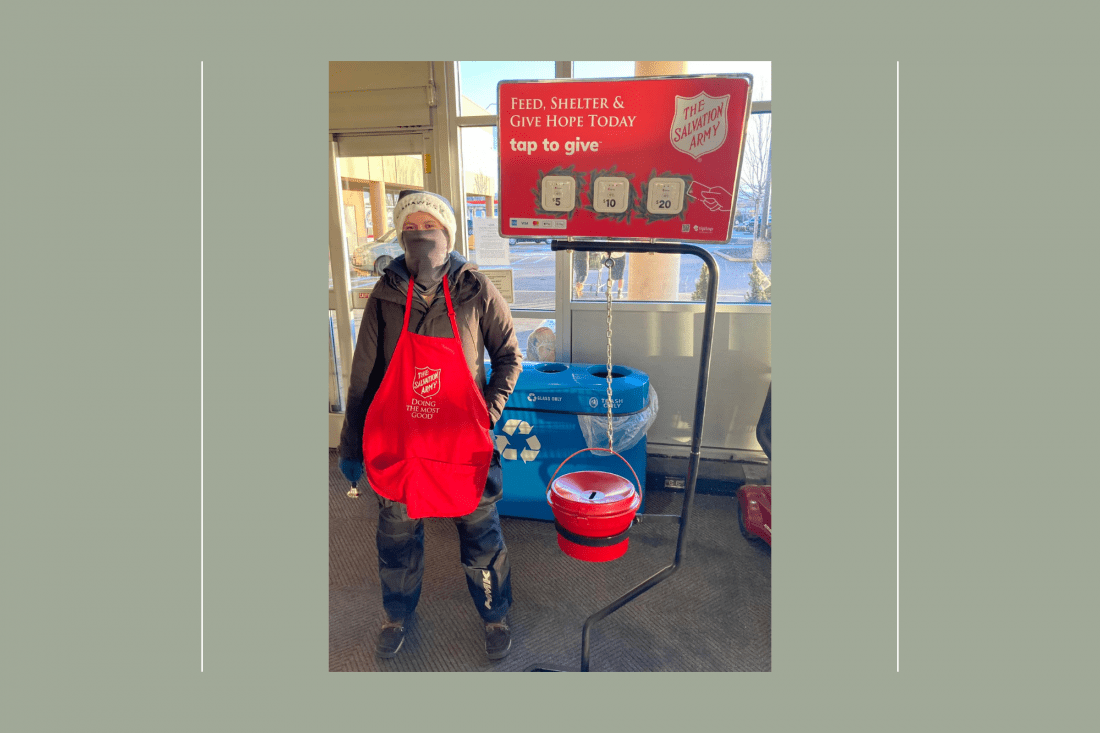 The Salvation Army launches touchless giving for its 2021 Red Kettle Campaign
Partnering with Visa and tiptap, The Salvation Army installs tiptap technology at over a thousand red kettle locations.
With new technology in place, The Salvation Army's 2021 Red Kettle Campaign aims to be easier and safer than ever. Partnering with Visa and tiptap, the Army launched touchless giving—Tap to Give—at over 1,000 kettles in various metropolitan areas, including Western Territory locations in Southern California, Northern California and Spokane, Washington.
The touchless giving option makes it easier for individuals who want to help others during the holidays—and beyond—ensuring "Hope Marches On" despite the ongoing pandemic. Many people donate to The Salvation Army only during the holiday season at the red kettles who may not wish to donate online. While these donors can still slip cash or coins into the kettle, they can now also use their bank card—or a cell phone holding their card's information—without a complicated transaction. Tiptap supplies devices that allow donors to simply tap their card on a pre-set amount. Most kettles have devices allowing donations of $5, $10 or $20.
The Salvation Army first launched tipap in 2020 in Canada—where tiptap originated—and it proved successful. Western Territorial Secretary for Communications Lt. Colonel Kyle Smith said the Canadians learned that offering three giving options is better than offering just one, since someone may choose to give $20 instead of $5.
"Tiptap does not replace the kettle worker; it's something to add to kettles," Smith said. "A lot of people don't carry cash the way they used to, but they carry their credit card. You can tiptap and walk away, and the device takes a set amount—whatever you've tapped—out of your account."
Smith said a tiptap donation is just like giving a cash donation. The device does not give The Salvation Army any of the donor's personal or bank card information. The donation goes straight into that Salvation Army location's account. Each location has a tiptap account that can be accessed online to track donations.
"It's easier than stuffing money in the kettle," Smith said. "When you tap the device, it makes a little beep, and you know you've donated."
He joked that if you're not sure it worked, you can tap it again—and again. "We'll be happy to take the additional donations," he said.
With people still struggling under the weight of pandemic poverty, The Salvation Army aims to do whatever it can to help.
"This new tiptap technology will make donating to The Salvation Army and making a positive change in the community easier and faster than ever," Del Oro Divisional Commander Major John Brackenbury said. "Over 135 years of serving the Sacramento region, we have had to adapt to using the latest technology to serve the most vulnerable, but our mission has always stayed the same. We exist to serve others without discrimination. Thank you, Visa, for helping us take that next step."
Smith also acknowledged the forward motion the partnership brings.
"It's the way to go," Smith said. "It's the way of the future and we—The Salvation Army—we need to be part of it."
Tiptap, added to the human connection of a bellringer, has the potential to expand kettle donations.
"Tiptap will not work without someone there at the kettle stand or at a check-out," Smith said. You need someone to greet people and to ask, 'Would you like to give?'"
When no one is standing at the kettle, donations drop dramatically, Smith said. A kettle that could bring in $200 might only make a few dollars. Having a bell ringer and the tiptap option is the best practice.
"The Salvation Army is trying to make it easier than ever for donors to help local vulnerable children and families," Spokane (Washington) Citadel Corps Officer Major Ken Perine told Spokane's KXLY News. "This system makes it easy to donate when you don't have cash on you. As times change, The Salvation Army changes to meet the demand."
Finally, tiptap solves an age-old problem bell ringers have experienced. No longer will they have to hear, "I'm sorry. I don't have any cash."
---
Do Good:
You've probably seen the red kettles and thrift stores, and while we're rightfully well known for both…The Salvation Army is so much more than red kettles and thrift stores. So who are we? What do we do? Where? Right this way for Salvation Army 101.
Life is busy, but you can do good right where you are, and The Do Gooders Podcast is here to help. Get expert tips for ideas to make an impact—from what it means to do good, to where to discover joy, what it is really like to be homeless or how to raise kind kids. If you want to be inspired and find tangible tips for simple actions you can take for good, subscribe today and never miss an episode.
Find out more about how The Salvation Army is making sure "Hope Marches On" for people this holiday season.