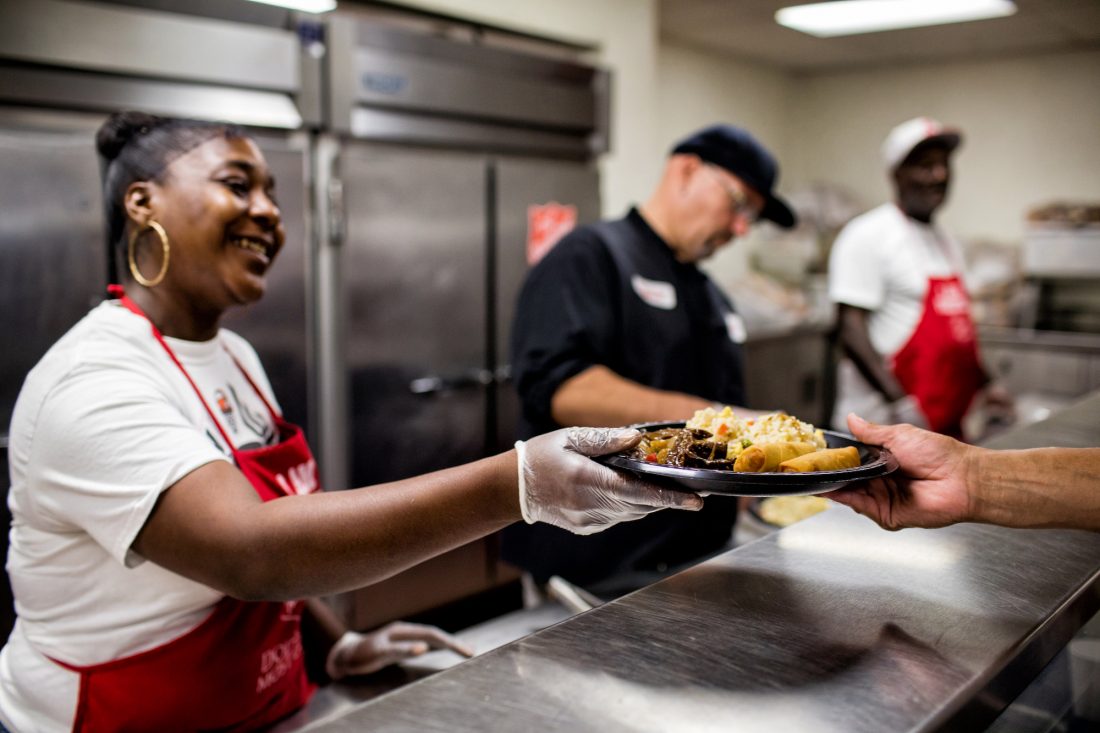 Creating an Army that carries out its mission to all in the name of Jesus
Captain Ivan Landeros serves in the new position of DEIA Officer at the College for Officer Training at Crestmont.
The College for Officer Training at Crestmont (CFOT) created a new position in 2021—DEIA officer—confirming its commitment to creating a culture embodying DEIA: diversity, equity, inclusion and accessibility. Captain Ivan Landeros is the first to serve in this role.
"DEIA puts The Salvation Army mission statement in language that the world understands," Landeros said. "This is who The Salvation Army is."
It's a reaffirmation, Landeros said. "We do everything in the name of Jesus, with no discrimination."
The College seeks to provide an environment where all students can succeed as they prepare to serve as Salvation Army officers. This has always been the goal, but today it is intentionally bringing everyone—cadets, officers and staff—under the DEIA umbrella. 
"The College for Officer Training is a safe place where we are intentional in affirming each person's humanity in Christ," CFOT Training Principal Major Nigel Cross said. "We are all equal in God's sight and equipped with different gifts, talents and abilities to fulfil our purpose in God's kingdom. All are needed, with no distinction of race, gender or special needs, to be winning the world for Christ and meeting the needs of humanity."
The College added accessibility to its DEI policy to acknowledge the reality that everyone has different needs, Landeros said. 
"It has nothing to do with comparison," Landeros said. The idea is to help the cadets with whatever their learning needs are, he explained. This helps build a culture where everyone is accepted—seen and heard for who they are.
Landeros said he coordinates and oversees DEIA matters at the College.  
"I'm here to empower and to listen," he said, noting that he's not the DEIA police, on the look-out for infractions.
"I need to be an example of DEIA in words and actions," he said.
Should a difficult situation arise, Landeros said he would first advise the Training Principal, and if need be, coordinate with the Executive Council, who would seek resolution.
Landeros also looks at how DEIA can be incorporated into the curriculum.
"It's about finding content that falls under the umbrella of DEIA," he said. 
Noting the fluidity of this new position, Landeros acknowledged that he's still working on the specifics of bringing DEIA into the classroom. 
"It's a work in progress to make sure we can all be on the same page without any doubt that all material falls under DEIA and the mission statement…Incorporating DEIA into the curriculum is more than just an assignment," he said. "It has to do with the culture—with the way we're doing things—what the whole College is creating in the classroom, outside the classroom, during chapel and within non-academic areas."
One of the ways CFOT is investing in this culture is with cultural intelligence training (CQ). Every second-year cadet is taking the CQ assessment and writing a reflection paper on their CQ journey as part of their Mission in Culture class, which addresses DEIA issues.
"I think DEIA is a wonderful addition to the curriculum here at CFOT," Cadet Shane Ingram, Messengers of Reconciliation Class President, said. "It's a great opportunity for a fresh perspective on what it means to spread the love of Christ and live the mission of The Salvation Army."
Living in this culture, one must be brave, Landeros said.
"Difficult conversations have to exist," he said, noting that it takes bravery to say, "I made a mistake." 
"We have to be kind to those who think differently than we do," Landeros said. "Just as God has extended his grace over us, we have to advance grace and justice. I firmly believe that our purpose at CFOT is not to create an army of people that are going to point fingers at the world, but to create an army that keeps on doing its mission to all in the name of God, even to those that do not align to what we believe."
Major Rob Reardon, CFOT Director of Mission and Ministry (previously called Field Training), prepares cadets for what they will experience as Salvation Army officers. 
The aim is that when new lieutenants leave for their appointments, they will be empowered to create a culture shaped by emulating God's love for all. The principles of DEIA will demonstrate that love.
"Cadets in the field need to have an awareness of the diversity within the various communities in which we serve," he said. "There are segments of the population that have been underserved. Our aim should be to identify those groups and ensure that they're cared for."

Landeros emphasized that the Army's mission of non-discriminatory love and service to all can be demonstrated through its commitment to DEIA principles—which are, after all, biblical principles. 
Over the years, God had been preparing Landeros to fill this role. He was born in Tijuana, Mexico, when the city had already become Americanized to the point where as a young child, Landeros didn't distinguish between English and Spanish; he understood and spoke both. His parents taught him to love and respect others. God still had more for him to learn, though.
My biggest example of how God has prepared me for this role was in Yakima, Washington, in  2016," Landeros said. "I was appointed as the Corps Officer of Yakima Temple. And when I arrived, I am not ashamed to say that I had cultural shock. Because even though I was born in Mexico, when I arrived to the congregation, they were very different from me. And that made me feel panicked, because I did not know how to be their officer."
It's a situation any Salvation Army could face.
Landeros said his first reaction was to change them.
"I thought, 'They need to be like me; they need to see The Salvation Army as I do,'" he said.
God taught him that that was not the right approach. He was not to bring the congregation to his level; he was to get to their level. And God revealed this through a seemingly unrelated spiritual moment.
Landeros found out his godchild had autism. The child's parents had asked the doctor, "When is my child going to do everything that a typical child does?" The doctor told them to release their expectations and to meet the child where he was, at that moment.
"When my friends shared that, we were emotional," Landeros said. "But God spoke to me about my congregation through that, because I was trying to bring them to my world, right? To the way I think and to the way I see things. But God spoke to me and said, 'Go to them. Be willing to go to them, not be afraid of them because they're different.'"
This was a turning point for Landeros. "It changed my brain, changed my ways, changed the way I see everything…I wanted to change that congregation. But that wasn't the way—I needed to go to them and understand what's going on and where they came from. And when I started listening to their story, I started understanding their behavior."
That is the message for The Salvation Army now, as it continues to serve all without discrimination in Jesus' name in a world sensitive to DEIA.
---
Do Good:
Hear this: Your story is uniquely yours. It's the one thing you have that no one else does. And you're the one who can tell it best.

Take our free email course

on how to find your voice, own your story and share it with others.  

You may think your day is too filled to the brim for

anything

more…but it's in his presence that you find rest. Where you are assured God is doing a beautiful work in you. Where you find a way to love—because he first loved you. Get inside the

Caring

Magazine Scripture Study Collection

and find a suite of free, printable Bible studies to guide you through topics from New Beginnings Through Forgiveness, to Understanding our Imago Dei or Life Hacks From David.