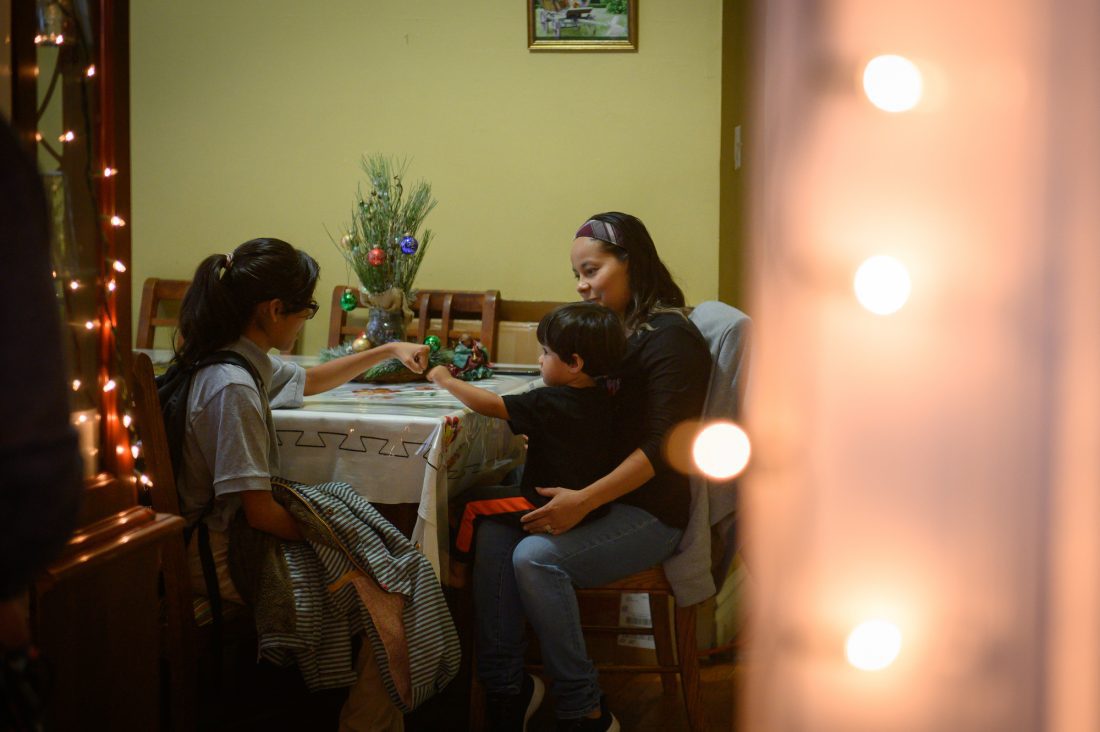 This Christmas, Hope Marches On for Americans overcoming pandemic hardships
When the pandemic began, The Salvation Army Spokane (Washington) Corps had to quickly make arrangements for its programs that range from helping those experiencing homelessness to providing emergency foster care.
Staff from the programs worked to make plans for various COVID-related scenarios, and sent them off to the licensing agencies—who then incorporated parts of The Salvation Army's plan into what they sent out to others in the state, according to Spokane Corps Officer Major Ken Perine.
"We had to continue operating. We have two residential foster care programs, and so the whole idea of closing would have meant those kids had no place to go…so we just couldn't stop," said Perine, sharing that the staff felt the same about the corps' three homeless service centers.
"They worked really hard and they kept all the programs going. We made adjustments for how we operated…and I was just so impressed with their commitment to the great ministry that we do here."
Since the pandemic began in 2020, the Spokane Corps has served without ceasing in the face of mounting need. In addition to keeping its programs running, last year it distributed 4.2 million pounds of food—about a million pounds more than the previous year. This year, it gave out 5,000 backpacks for back-to-school at an outdoor, socially distanced event.
And it is one corps of The Salvation Army USA Western Territory. Across the Western U.S., The Salvation Army has worked tirelessly to meet human need in Jesus' name without discrimination. From March 2020 until September 2021, The Salvation Army has provided more than 2.5 million meals and more than 2.5 million nights of shelter through rent and mortgage assistance in the West.
These efforts require funding, and the kettle is where The Salvation Army brings in much of the needed donations. Funds raised at the kettle stay in the community in which it is donated, and this year, efforts in the West aim to combat pandemic poverty for hard-working Americans who have fallen on hard times through the theme: Hope Marches On.
"The most important thing for anyone to have this year is hope, and this year Hope Marches On," said Western Territory Communications Secretary Lt. Colonel Kyle Smith. "If we can instill that hope for people who are struggling…it's the message of Christmas. We can provide hope. Everything is about hope."
Last year, Americans helped to raise more than $557 million to Rescue Christmas for those in need—greatly surpassing what The Salvation Army projected would be a deficit due to pandemic reasons. Of the donations, nearly $119 million came in at the kettle.
But the needs continue to increase as the pandemic wears on. According to The Salvation Army's National Headquarters, the Army across the U.S. has received more requests for financial assistance in the first six months of 2021 than in all of 2020.
Because of this, and the fallout from the lifting of eviction moratoriums, The Salvation Army anticipates it will need to bring in $175 million through its kettles — nearly 50 percent more than it raised in 2020.
"Pandemic poverty is a threat that continues to knock on the door of millions of our neighbors in need," said National Commander Commissioner Kenneth G. Hodder. "The Salvation Army continues to serve families who had never needed our help before, so we're asking everyone to help this holiday season."
This year, promotional assets for the kettle season will be available in Spanish and Mandarin in keeping with census data and community needs.
Additionally, The Salvation Army invested for the first time this year in paid Spanish-language media.
Due to the continued pandemic and the rise of the Delta variant, kettles will be cleaned before each shift, and bellringers will be required to wear masks at all times and maintain social distancing measures while they are at the kettle. For those who don't carry cash or who want to keep a greater distance, they can now give through Venmo and PayPal on Kettle Pay or through an individual or corps' virtual kettle online.
Kettles not only bring in needed funds to support The Salvation Army's programs and services, but the platform to spread the message of Christmas.
"I really believe at that particular moment last year, so many people were looking for something that was still operational, that still showed some steadfastness in the midst of so much uncertainty," said Perine. "The Salvation Army's being out last year at Christmas time I really think helped our community to realize that, 'Hey, we're going to weather this storm…We're going to come out on the other side doing great.'"
This year, he said, the plan is to make sure the community knows The Salvation Army is marching on—and that Hope is Marching On.
"What our plan is this year is really to be out there sharing the greater message of Christmas. And in reminding people that in the midst of uncertainty and fear, they can come to The Salvation Army, and it'll be a rock for them as they transition from whatever their situation is into something better."
---
Do Good:
You've probably seen the red kettles and thrift stores, and while we're rightfully well known for both…The Salvation Army is so much more than red kettles and thrift stores. So who are we? What do we do? Where? Right this way for Salvation Army 101.
It's because of people like you that The Salvation Army can serve more than 31 million Americans in need each year. (That's almost one person every second, every day.) Your gift helps The Salvation Army fight for good all year in your community. It's an effort to build well-being for all of us, so together we rise. And that good starts with you. Give to spread hope with a donation of funds, goods or time today.
Read more about last year's record giving and need.