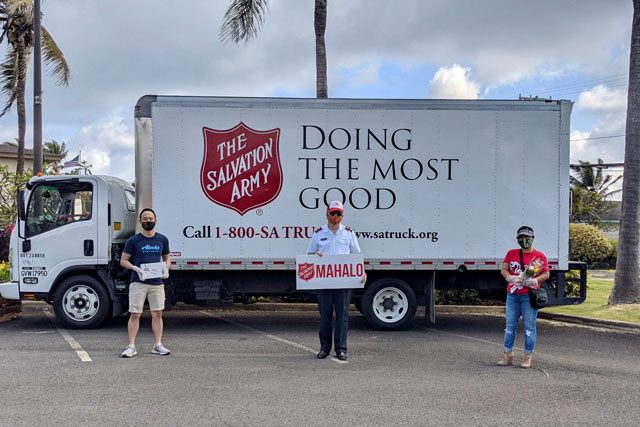 The Salvation Army in Hawaii holds Mother's Day-themed food distributions
Events happen at four locations, with the support of The Church of Jesus Christ of Latter-day Saints and other partners.
The Salvation Army Hawaiian and Pacific Islands Division, with the support of The Church of Jesus Christ of Latter-day Saints (LDS), and in collaboration with Y. Hata & Co. Ltd. and Hawaii State Voluntary Organizations Active in Disaster (VOAD), held four Mother's Day weekend emergency drive-through food distributions on Oahu, Maui, and Hawaii Island May 9, as part of their ongoing food outreach during the COVID-19 pandemic. Other Western Territory divisions will have food distributions partnering with the LDS in the coming weeks.
Each event began at 9 a.m. and approximately 1,200 families received food staples, fresh produce and more. Each food box provided about 10 meals, yielding a total of about 12,000 meals. A pre-scheduled weekly food outreach by The Salvation Army to more than 100 houseless individuals on Kauai also took place May 9.  
Divisional Commander Major Jeff Martin told the Honolulu Star-Advertiser the distributions were about more than meeting physical needs.
"It is the mental health," he said. "It is the discouragement people might face when they know that they don't have the money to buy anything for their mother, or the husbands to buy for their wives. And then all of a sudden the mother has a rose."
For the drive-through distributions, safe social distancing was observed, with people remaining in their cars while volunteers placed the food items inside car trunks.
"With so many in Hawaii worried about where their next meal will come from, we are extremely grateful for the generous support of The Church of Jesus Christ of Latter-day Saints to help make these special Mother's Day weekend events possible," said Victor Leonardi, Divisional Director of Emergency Services and Safety and Incident Commander for The Salvation Army Hawaiian and Pacific Islands Division. "And, thanks to the collaboration of Polynesian Cultural Center, BYU-Hawaii, La Hui Foundation and Ke Ola Mamo, we are now able to provide much-needed food and hope to Oahu's North Shore community from Turtle Bay to Kaaawa. We also appreciate the support of local businesses Y. Hata & Co., Ltd., Ham Produce, Alaska Airlines, Old Republic Title and Escrow of Hawaii for their contributions to help make these events possible."
The LDS expressed their commitment to helping those in need. 
"The Church of Jesus Christ of Latter-day Saints is pleased to participate with The Salvation Army in this wonderful opportunity to pay tribute to our mothers on their very special day," said Wailana Kamauu, Communication Director for The Church of Jesus Christ of Latter-day Saints. "In these challenging times, we are grateful that families throughout the state will be able to gather and break bread with the loving matriarchs of their homes through this food outreach initiative. One of the four pillars of our Church's mission is to care for the poor and needy. Therefore, we will always seek to be 'anxiously engaged in a good cause.' This is indeed a noble objective and we give thanks to all of the participating sponsors for collaborating with us in this noteworthy endeavor."
The drive-through events took place on Oahu's North Shore at the Polynesian Cultural Center in Laie, on Maui at the Queen Ka'ahumanu Center in Kahului, and on Hawaii (Big Island) at The Salvation Army Hilo Temple Corps in Hilo and at Kona Corps in Kailua-Kona.
Among the volunteers helping with the distribution at the Polynesian Cultural Center were members of the Hawaii Echelon chapter. Echelon member Camille Belle shared her experience on her Facebook page.
"Today I cried a few times as I passed out food to families who waited in line for hours at the Salvation Army's special Mother's Day food drive in the parking lot of the Polynesian Cultural Center. By far this has been one of the most humbling volunteer opportunities I've been able to be a part of. I was touched to see the creative thank you signs being waved at us by the people in their cars. It was amazing to see the outpour of love and generosity from other volunteers serving their time to bless others."
Martin summed up the events, saying, "It was hoped the Mother's Day themed food distribution would help residents realize they can have something good in the midst of these difficult times."
Leonardi emphasized that while these distributions were special, The Salvation Army is continuously working to feed people in need.
"Saturday's events are among the 140 opportunities for food The Salvation Army is currently offering each week throughout Hawaii and the Pacific," he said. We continue to seek monetary donations to support our feeding outreach. Visit hawaii.salvationarmy.org to donate and to find out details by island, where those in need can find The Salvation Army's food pantries and meals-to-go programs."





HOW TO HELP:
If you'd like to make a monetary donation, please

click here to make a gift.

Text 'GIVE' to 52000 to make a $10 donation to The Salvation Army. This will automatically add a one-time donation to your next mobile phone bill.

For information about volunteering, please visit

volunteer.usawest.org

.

To learn more about how to support The Salvation Army's relief efforts,

please click here

.