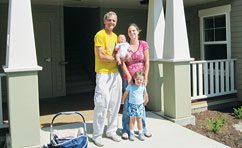 The Army opens a new transitional center for the homeless.
Hope House opens its doors
The Army opens a new transitional center for the homeless.
After 13 years of visioning, planning and running a 5-year capital campaign to raise money for a new homeless transitional shelter, the Medford (Ore.) Corps heralded the long-awaited opening of Hope House on Aug. 11, 2010.
After a ribbon-cutting ceremony, guests attended an open house and reception. Mayor Gary Wheeler spoke of how important The Salvation Army is to the people of Southern Oregon and how life changing its programs are. Cascade Divisional Commander Lt. Colonel Eda Hokom's address centered on the word "hope" and what it means to the Medford community and the families moving into the facility.
Hope House consists of six two-bedroom and six three-bedroom units. Each apartment has a living room, dining area, kitchen, bathroom, master bedroom and one or two bedrooms for children. Four of the homes are already filled; a waiting list exists for the rest. Full occupancy is expected by October.
David and Janet—current Hope House residents—were a young couple living with friends while David completed his master's program in counseling. The friends lost their home to foreclosure—making David and Janet homeless—and referred the couple to The Salvation Army. Janet was in her last trimester of pregnancy. She gave birth to their son just two days before moving into the facility. As always, God's timing was perfect.
"Without this program we would have been in dire straits," David said. "It really did seem like a Godsend."
Medford Corps Officer Captain Martin Cooper agrees.
"Timing is everything," he said. "The 13-year journey has not come to an end, but continues on at just the right time in just the right place for just the right people."
Bill Yeager is the transitional living director for Hope House.
Medford statistics show that local homelessness has radically changed in the past year. In 2009, 12.7 percent of the homeless were one and two-parent families with children. That figure jumped to 55 percent in 2010.
Hope House is the first of its kind in Southern Oregon.
---