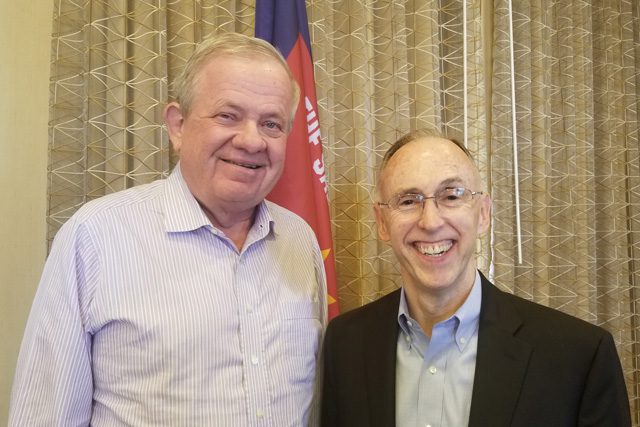 Territorial Executive Council meets for training, visioning
By Janene Zielinski, Major –
Thirty-six members of the Western Territory's Territorial Executive Council—comprised of cabinet and command leaders—met together in early September for training, inspiration and visioning in their leadership.
"It has been exciting to see the spirit of God working among our leaders as they wrestle with the changes emerging generations will require us to face," said Captain Jonathan Harvey, General Secretary of the Northwest Division. "There can be a sense of great uncertainty as we consider the impact emerging generations may have on our ministry and methods, however we have also been repeatedly reassured of God's unending faithfulness, and that God is always victorious!"
TEC completed the "Sharpening Leaders Initiative" of Arrow Leadership, a world-class program partnering with The Salvation Army to develop Christian leaders "to be led more by Jesus, to lead more like Jesus and to lead more to Jesus."
"The Arrow leadership seminars gave us a chance to step out of our everyday context, to reflect deeply and check the alignment of the 'why' of our ministry as Salvation Army officers," said Lt. Colonel Kelly Pontsler, Southwest Divisional Commander. "We all need that from time to time."
Guest speaker Bill Raduchel, business economist and a strategic advisor for several major corporations as well as a 17-year member of The Salvation Army National Advisory Board, presented his thoughts for the Army's leaders as they look to the future.
Following his talk, Major Mary Norton, Divisional Director of Women's Ministries for the Golden State Division, said she learned that "we must stay in touch with our changing world in order to be where we need to be when the world needs us. The message of hope is relevant for the emerging generation, and we need to find effective ways to share that message. In sharing our faith and implementing our mission, we must have clarity about what we believe but flexibility with how we express it. We must know where we are going but innovative about how we get there."
Concluding sessions for the week were led by guest speaker Bob Johansen, a distinguished fellow at the Institute for the Future, who has been helping organizations around the world prepare for and shape the future for nearly 40 years.
He described the impacts of technology, noting that when he joined the institute in 1973, he was one of the first social scientists to study the human and organizational impacts of the ARPANET, the prototype for the Internet. He created and led a research program on emerging information technologies—now called the Technology Horizons Program—as Johansen said he has a special interest in how information technologies can facilitate networking, minimize distances, and take advantage of differences.
"Just when I thought I was getting life figured out, Bob challenged my thinking and made me realize that I've got a lot more to learn about this fast-changing world we live in," said Major John Brackenbury, Alaska Divisional Commander. "While there seems to be a lot of negativity and challenges in the world today, God raised this Army up to bring hope to a hurting world.  This was never so clearly evident as it was during our discussions this past week. We need to get to work!"