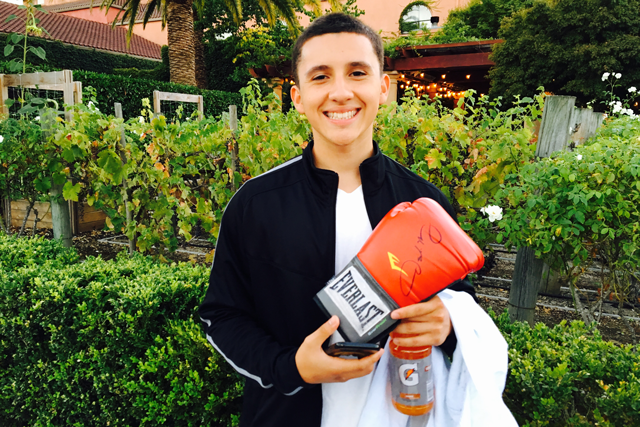 Teenage fire survivor celebrates birthday volunteering at Salvation Army
Odin Mena Jr. is a regular participant of The Salvation Army's Double Punches Boxing Club in Santa Rosa, California.
By Maria Lopez –
There they were, proudly hung up in Odin Mena Jr.'s bedroom—a pair of boxing gloves signed by 10-time world champion Oscar De La Hoya.
Mena, 17, got them last summer, when he met "The Golden Boy" at an event in Rohnert Park, California. Mena himself is an aspiring boxer. He trains at The Salvation Army Double Punches Boxing Club in Santa Rosa, California. So it was something he'll never forget.
Two months later, after Mena started his senior year at Montgomery High School, he experienced something else he'd never forget—but for very different reasons.
It was about 2 a.m. on Oct. 9, 2017, when Mena awoke to the sound of cars honking their horns and people screaming. He opened his eyes to a room full of smoke and ran to his open window to look out. All he could see were embers lighting up the night.
He knew there was a fire but wasn't sure where it was coming from, so he woke up the rest of his family—his mom, stepdad and grandmother. Unaware of how close the blaze was, they all ran outside. Mena went around the side of the house to the backyard, and that's when he saw their backyard fence and trees already in flames.
Quickly, they shuffled into their cars. Seeing so many people hysterical and panicked, Mena realized he needed to stay calm so he could think. That's when it occurred to him that his neighbor across the street and his wheelchair-bound wife weren't outside, so he ran to their house and banged on their door to wake them up. By that time there were sirens and police directing traffic. They couldn't get on the freeway because it too was on fire, so they were directed south through backroads until they ended up in Rohnert Park at a friend's house.
Around 5 p.m. later that day, Mena and his stepdad made their way back to Santa Rosa through the backroads until they reached Crestview Drive. Media crews buzzed around, snapping photos and taking stock of the damage done. KRON 4 TV even interviewed Mena for that evening's news. What Mena and his stepdad saw left them in shock and disbelief: nothing but ash and rubble remained of their house. Everything was gone—the furniture, the heirlooms, the autographed Oscar De La Hoya boxing gloves. That's when it hit him.
"We could've all died," Mena said.
The next day, feeling restless, Mena made his way back to Santa Rosa. He got a ride part of the way and walked the rest. But this time he headed to The Salvation Army. When he got there, he immediately jumped in to help sort clothing donations. Mena has been part of the Double Punches Boxing Club for the past four years. He finds it's a good way for him to stay in shape and let out frustration. After pitching in and helping for a few hours, he went home to his friend's house, where he was staying.
That night he was finally able to sleep.
The following day, Oct. 17, was Mena's 17th birthday. So he celebrated it the only way that made sense: by helping out again at The Salvation Army. There was just too much work to be done and too many people in need. That evening, when his dad picked him up, he had a cake and a few of his closest friend there to share it with.
"This is a birthday I'll never forget," he said.
It's been a difficult few months for Mena—his family is divided. His mom moved to Windsor, but he's staying in Santa Rosa with his dad to be closer to his school and the boxing gym. He recently got his driver's license. His goal is to begin competing in boxing soon.
Every day is a challenge but he's learned to take it one step at a time. He's grateful, in a sense, for the perspective he's gained from that fateful October day.
"When you realize you or a family member could have lost their life," he said, "suddenly the 'things' you lost don't seem as important."