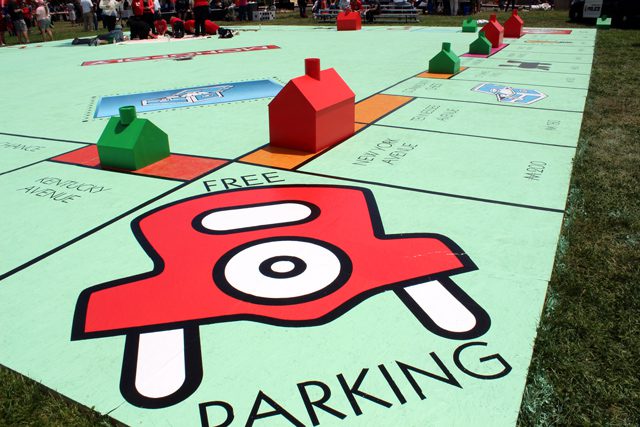 Suisun Kroc's giant Monopoly board breaks record
Record attempt draws an estimated 2,000
By Sydney Fong –
The Salvation Army Ray and Joan Kroc Corps Community Center in Suisun City, Calif., wanted to celebrate its third annual KrocFest in a big way—literally.
Staff and volunteers came together on May 30 and completed the construction of a 3,738 square foot Monopoly board game. It easily smashed the old Guinness World Record of 2,422 square feet.
Giant game pieces, including the Monopoly house, hotel and dice, completed the life-sized ensemble.
"Here at the Kroc, we like to go big, and I think we accomplished that today," said Capt. Jonathan Harvey, Solano county coordinator.
Yet, before the record was set Kroc Center staff faced challenges.
"Right before our KrocFest event, we had to start over with the construction of the game board," said Michael Brito, Kroc Center director of operations, who pitched the idea following a meeting with the Solano Chamber of Commerce. "The original material was warped, so we had to go with plywood and paint the board all over again."
In all, the project totaled almost three days and drew an estimated 2,000 individuals to the Kroc Center.
"We wanted to bring attention to our Kroc Center and to raise funds for youth programs like summer camp," Harvey said. "I think our residents had a pretty good idea that The Salvation Army is all about impacting the lives of our area."
The KrocFest celebrated the anniversary of Kroc Center opening in Suisun City. Since 2012, the 60,000-square-foot facility has housed an array of education, sports, faith, arts and supportive programs. Over the last three years, membership has grown from 500 to over 5,000.
In addition to the Monopoly board game, KrocFest also featured vendors, food, "Play Big" games, and Monopoly-themed activities inside the Kroc Center.