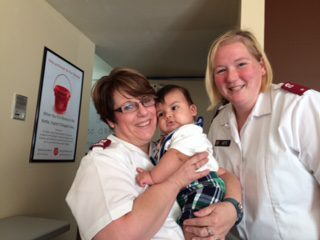 Students register at Marian Pritchett School
The need for this unique school, which serves pregnant and parenting teens, remains high.
The Marian Pritchett School recently held registration for the 2016-17 academic year at the The Salvation Army Booth Memorial Campus in Boise, Idaho, where the Army has been helping pregnant women since 1921. The school for pregnant and parenting teens is now run cooperatively by The Salvation Army and the Boise School District, in a partnership dating back to 1964.
Forty-five registrations took place the first day of sign-ups, which included the enrollment of 29 babies, with six more expected after the first of the year. Many returning students are also expected to come back.
Treasure Valley Coordinators and Boise Corps Officers Majors Robert and Rhonda Lloyd assisted at registration.
"As we were standing watching the registration, conversation drifted to how the school administration will hold enrollment at our maximum capacity of  50 students and 30 babies, which will likely require that some students be moved to a waiting list," Robert Lloyd said. "As of now we have eight male students."
Currently The Salvation Army in Treasure Valley is conducting a capital campaign to fund an expanded campus with a new school building that will accommodate more students.