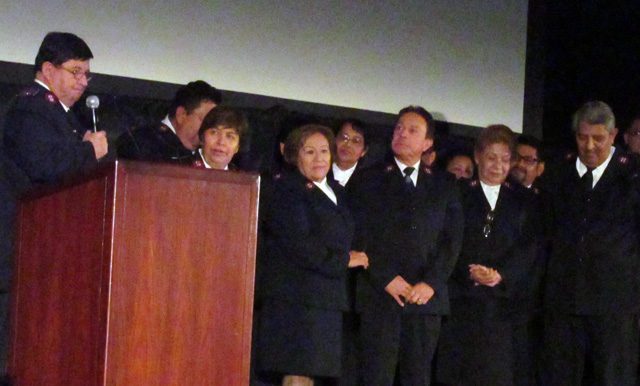 Spanish Seminar addresses leadership
Speakers challenge Hispanic delegates to use faith for effective leadership
By Vivian Gatica – 
Hundreds of Hispanic Salvationists came together at the Pasadena Convention Center on Saturday morning for the Spanish Seminar during The Salvation Army Western Territory's Commissioning Weekend Celebration.  
The event, which was themed after leadership, featured guest speakers Major Pedro Delgado from the Phoenix Maryvale Corps and Major Carlos Bravo from the Anaheim Temple Corps.
 Delgado addressed the power of faith and how it should be used in terms of leadership. He challenged the seminar delegates to not only have faith, but also act upon it to serve God and leave a mark in their corps with their passion for God.
 "The Holy Spirit does not act alone; it works with us," he said. "The Salvation Army does not only need its officers, it needs you; now is the time to take action."
 Lt. Colonel Zoilo Pardo, territorial multicultural ministries secretary, took time in between speakers to recognize retiring officers Majors Pedro and Elizabeth Delgado (Phoenix Maryvale Corps) and Majors Antonio and Aide Horta (Santa Ana Temple). He also acknowledged sergeant majors from the Southern California Division, including Nayeli Ascencio (East Los Angeles), Milton Vivar (Southwest Community), Donald Hindran (Oxnard), Angelica Vega (Bellflower), Jose Gomez (San Pedro Temple), Roberto Castillo (San Fernando Valley), Juan Rodriguez (Santa Fe Springs), Reyna Carrillo (Long Beach), and Manuel Mendez (Santa Ana Temple).
Major Carlos Bravo concluded the seminar with a speech on how to achieve successful leadership in the corps, utilizing efficacy and efficiency in teams to achieve a goal.
 "In a team there has to be different perspectives that unite," Bravo said. "We can be better."