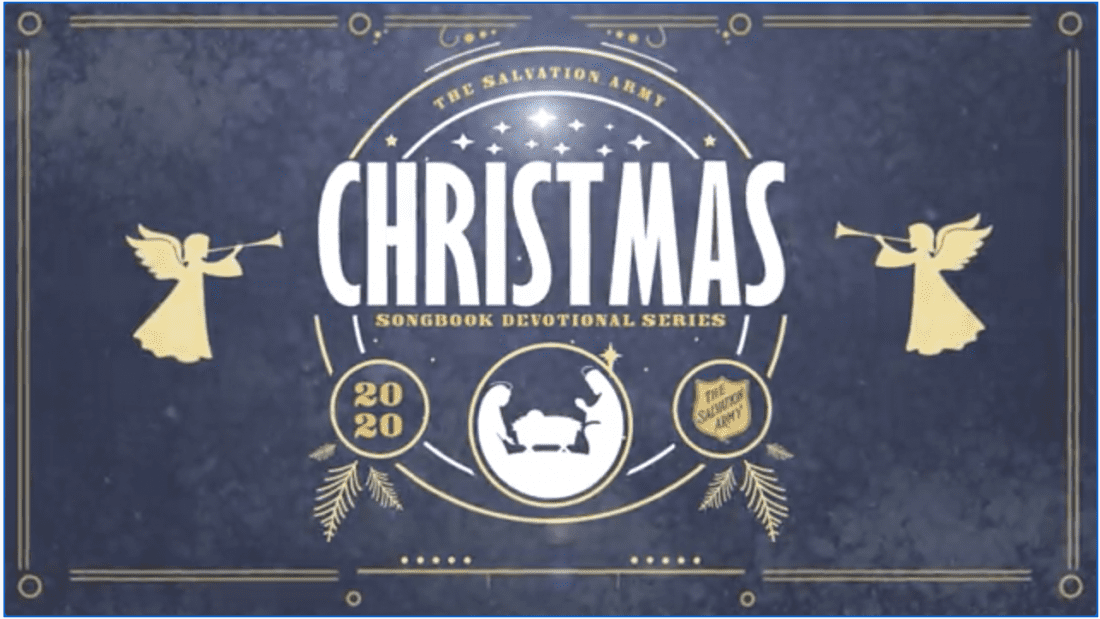 Song book devotional series enters third year with new tunes
By Hilary Jackson – 
For three years, The Salvation Army Song Book devotional series has shared music and devotions throughout lenten and Advent seasons online, amassing a Facebook group following of more than 13,000 viewers spanning over 100 countries. This year, instead of repeating familiar tunes, the series reimagines Christmas songs and even creates new ones, involving songwriters from seven territories in Australia, Canada, New Zealand, Chile and the U.S.
"I wanted to do something, especially during these times," said Kevin Larsson, California South Music Director, who first started the online series during Lent 2018. "I was coming up with ideas, but also trying to help out the corps so they could use it for different streaming services… But the actual idea was just, 'why not? Let's just try something new' and people all jumped on board."
Each video begins with a devotional thought before a performance of the day's song, giving viewers a time to meditate on the words. Every time a song is released on YouTube or Facebook, it is immediately available for download, along with chord charts and lead sheets on the USA Western Territory's music website. Additionally, there are options to download the full video of either the isolated song or devotional.
Sometimes songs have a single composer, and other times it's a group effort. For example, "The Newborn King," which posted to the Facebook group Dec. 2, featured a devotional by Captain Justin Docherty who co-composed the song with Larsson, based on "Hark! The Herald Angels Sing."  
While Larsson and Docherty's song contains many original elements, like new lyrics and harmony, the series contains a range of creativity. There are some completely new original songs, and there are others, Christmas favorites, that have been given a modern spin. 
"Some of the harmonies are different, but it's the same words, same tune as everyone knows so well," Larsson said. "And there's some that are just completely new, so you wouldn't even recognize it's based on any particular carol, but it's all to do with just the meaning of that carol originally." 
The devotional series started in the California South Division, with Larsson's conception of the idea and getting the new series into motion, but USA Western Territorial Music Secretary Neil Smith expanded upon it once he got involved, contacting other territories and helping with information flow and project coordination—turning the series into a worldwide effort.
"It's important for us to keep updating what we do and encouraging our new and upcoming songwriters to make a contribution to our worship," Smith said. "These songs and this project have covered all of those bases. And although nothing this year is normal, I think that people will enjoy the music and words as something familiar and also something new to be explored and enjoyed." 
One of the songwriters from the Australia Territory, Worship Arts Coordinator Daniel Casey, wrote to try to "encapsulate the victory of the birth of Jesus." 
"For me, it is easy to forget the impact of what Christmas means as a follower of Jesus," Casey said. "This inspired me to really dig into why Christmas is important for me personally, and God really spoke to me about the true victory of Jesus' birth."
That victory ties in with one of the series' primary goals: to proclaim the good news. 
"I'm hoping that is kind of an evangelistic tool number one, so that people don't know what the Army does or even what Christmas is all about, there's going to be that side of things," Larsson said. "And hopefully, it'll just be some new, cool songs, and we might get people listening to them."
While the Facebook group already contained an international crowd, the cross-territory song collaborations have helped bring people together virtually, too. 
"This is one of the first projects that seven different territories around the world have worked together on," Larsson said. "I'd love to see that kind of thing—synergy around the Army world."
Casey agrees the project is a good way to connect, celebrate and inspire each other. 
"My hope is that providing a platform for creative people within The Salvation Army to communicate in their own way what God has been placing on their heart will further ignite not only our own movement, but advance the kingdom of God," Casey said. "Hopefully, these new songs, even if in a small part, can play a role in our connection through our common goal, to win the world for Jesus."
Follow The Salvation Army Song Book Devotional Series this Advent season at facebook.com/groups/TSAsongbookseries.