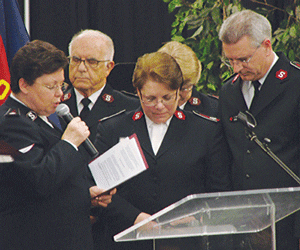 Smiths take up leadership in Golden State
By Laine Hendricks
The installation ceremony of new Golden State Divisional Leaders Lt. Colonels Stephen and Marcia Smith was truly a family affair. Attending and participating in the ceremony were Lt. Colonel Judy Smith (cousin of Lt. Colonel Stephen Smith and former Golden State divisional secretary for program); Major Eileen Hoogstad (sister of Lt. Colonel Stephen Smith); Colonels Bruce and Dorothy Harvey (parents of Lt. Colonel Marcia Smith and former leaders of the Northern California/Nevada Division); and all of the Smiths' children. Commissioners James and Carolyn Knaggs, territorial leaders, also took part in the installation.
Over 400 people gathered at Camp Redwood Glen, nestled in the Santa Cruz Mountains, for the ceremony and barbeque. Major Debi Shrum provided a welcome to the leaders including a re-write of the Beatles classic, "The Long and Winding Road," and Captain Roy Wild interviewed the new divisional leaders in a talk-show format. The Central Valley Youth Band and Chorus (under the leadership of Jerry Knickerbocker and Golden State Divisional Music and Worship Director Elizabeth Carvill) provided music.
The Smiths thanked former Golden State Divisional Leaders Lt. Colonels Joe and Shawn Posillico, for their nearly seven years of leadership to the division. They also challenged everyone to be "salt and light" to a world that desperately needs both.
The evening concluded with a literal "bang"—a spirited dragon dance provided by the San Francisco Chinatown Corps, complete with firecrackers.