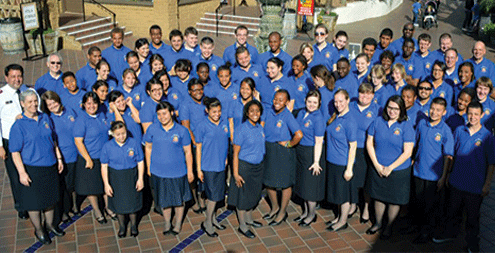 Sierra del Mar youth music groups perform in San Diego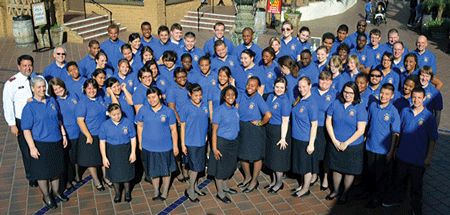 70 musicians join in weekend of music.
Sierra del Mar Division's young musicians—70 total from the youth band, youth chorus, and timbrel and hula groups—recently gathered for a weekend of music-making in San Diego.
At the El Cajon Corps, Territorial Commander Commissioner James Knaggs, who was visiting corps in the area, surprised the young people to wish them well and pray for their weekend of music ministry. From there, the group left to entertain crowds at Seaport Village, a popular tourist destination.
During an evening performance back at the corps, the group presented a varied program including drama and Devotion in Motion; a cornet solo, "A Happy Day," by Joshua Stewart; and a zylophone duet by Divisional Music Director Stephen Yalden and his daughter, Sophie. Everyone joined in on a gospel-style rendition of  "The Presence of the Lord is Here," conducted by Youth Chorus Leader Lt. Jay Koebel.
"Every note counts," said Divisional Secretary Captain Ken Perine in his devotion, reminding the youth of their importance, not only as members of the music and gospel arts groups, but also as church members and ambassadors for Christ.
On Sunday morning, the musical groups provided support for worship at the Chula Vista, Center City and Kroc Center corps, and at the Adult Rehabilitation Center in downtown San Diego.