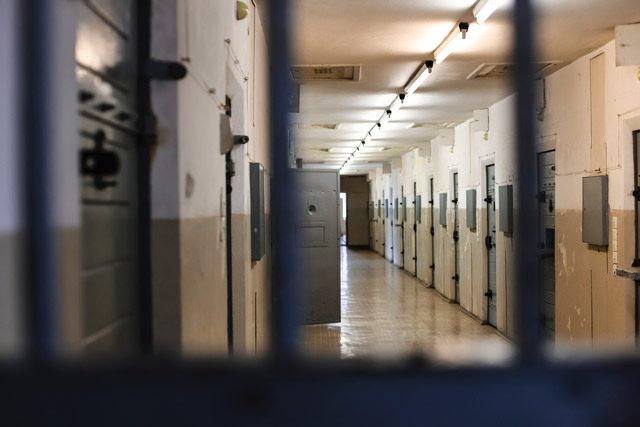 Sharing photos behind bars
San Diego Citadel employee helps client connect to spouse through pictures
By Vivian Lopez – 
The team at the San Diego Citadel Corps had known "John," a client experiencing homelessness, for a while. He had been coming in for the past year about every month or so to charge his phone or request small items.
"He's never asked for much," said Michele Grosskrueger, San Diego Citadel Corps Facility Supervisor. "But he hangs out in the office and listens in on our conversations and joins in, so I think he feels a little connection to people here."
Recently, when Grosskrueger was talking to John, he mentioned that his wife, who had also been homeless and a client at the corps, was in prison. The pair were newly married when she was incarcerated. She didn't have any photos of him or the two of them. John had photos on his phone, but no way to print them out and mail them to her. 
So, Grosskrueger offered to print the pictures for him to send to his spouse.
"I didn't ask why she was in prison, but it didn't matter. We just treat everybody like our friends," Grosskrueger said. "It didn't take anything but a few minutes of our time."
She said John was overjoyed and repeatedly thanked her.  
"For such a little bit of time that it took, it was more than worth it to do that for him," Grosskrueger said. "That's part of what we do here—sharing God's love with with anyone who needs it. If I can't do the big favors, I can do the little favors."
Grosskrueger also gave him postage stamps and an envelope to mail the photos out to his wife himself.
"I'm just happy that it made him happy," she said.
When Major Regina Shull, San Diego Citadel Corps Officer, heard what had happened, she was in awe.
"[Grosskrueger] has a beautiful presence when it comes to helping those who come into our office, and she's always looking for ways she can think outside the box," Shull said. "We are limited in the things we can provide here in this place. We don't have a shelter…or a social service office. We do give out food boxes and do rental assistance, but we don't have a lot of resources. And yet she found a way to still serve a great need for this homeless man when she heard that his wife was in jail and that all he wanted to do was send her some pictures. That just shows you that her mind is always about caring for others."
For Grosskrueger, small actions like this are important to show clients that they are not alone.
"Just treating him like one of us…was important for him to have a sense of belonging," she said. "When people are on the streets they're going through enough already, and any boost to them being treated like a whole person from anyone, I think, helps them in the long run. Isn't that what God commands us to do?"