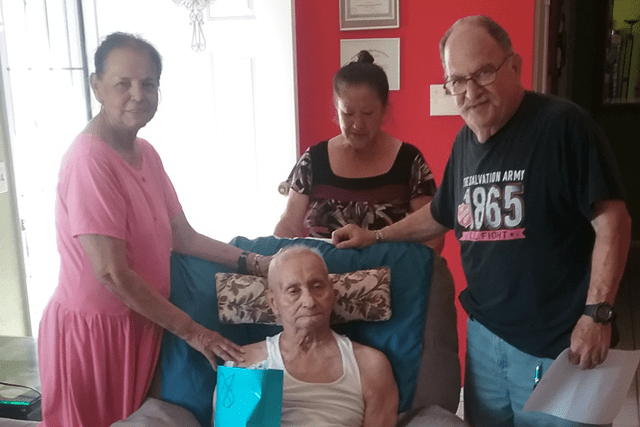 Senior grocery delivery counters hunger, isolation in Victorville
The number of "food insecure" seniors could jump 50 percent by 2025.
No one should be forced to choose between going hungry, keeping the lights on or purchasing medication for cancer. But an estimated 7.1 million seniors in America are living in poverty and must make heartbreaking decisions like this each day.
That number is expected to rise 33 percent by 2020 and 100 percent by 2050, according to Justice for Aging, a national nonprofit legal advocacy organization fighting senior poverty.
For the past three years, Maxine DiDonato and her team of volunteers at The Salvation Army Victor Valley Corps in Victorville, California—with Corps Officers Captains Joseph and Joni Alvarez—have been working on combating the problem with an innovative, personalized solution to meet the needs of local seniors.
It all started with a phone call in 2015 from a man named Michael who said he was homebound and couldn't make it out to The Salvation Army's food pantry to get the groceries he needed.
"He had cancer and was confined to a hospital bed for the most part, and his bills were expensive for treatment," said DiDonato, the corps' social services program manager. "I decided that day that I would just make up some groceries and take them to him on the way home…But it really weighed on me. Seniors are really important to me. I think for the most part they're the forgotten demographic."
She wanted to know how to reach people like him—those who weren't on social media or who perhaps couldn't even make that phone call to let her know they were in need like Michael did.
With the support of her corps officer, DiDonato reached out to the Department of Aging and Adult Services and presented her idea for a grocery delivery program for low-income seniors.
"The social workers were very responsive," she said, "because many times if they get called for abuse or neglect, they go out there and food is something they need and they don't have resources for that."
It worked from an operational standpoint, too. Because the Department of Aging could already guarantee the seniors in need had been deemed "low-income," it saved time and resources such that DiDonato and her team of volunteers could focus on stocking the food pantry and distributing it on their weekly delivery runs.
Of course, this isn't just any food pantry DiDonato is stocking. She's taken extra care to ensure every item is "senior-friendly"—that is, low-sodium, low-sugar or no sugar, or otherwise won't interfere with medications or common illnesses, such as diabetes or heart problems. Frozen meals are selected for those who aren't able to cook, while those with caretakers are provided ingredients for simple meals. DiDonato said the public is welcome to bring in low-sodium, low-sugar food items or cash donations as well, if they'd like to help.
DiDonato and her volunteers currently deliver to 102 households and serve more than 150 seniors a month through the program. She said she accepts people over the age of 50, since some older community members in need might have disabilities or other needs, and she interviews 20 clients a day who are on a waitlist for services.
Two of her most dedicated volunteers, Malcolm and Arlene Reiss, volunteer 40 hours per week. They're also both seniors themselves, 75 and 73 years of age, respectively.
"They are responsible for making sure this program runs smoothly," DiDonato said.
For the Reisses, that means offering prayer when they do their deliveries and remembering the seniors they serve on their birthdays and at the holidays—as well as their furry companions.
They work with DiDonato to design customized deliveries and gift baskets on their special days with thoughtful selections, such as new robes, slippers, and a chew toy for their dog.
"I have conversations with most of them about all kinds of things," said Arlene Reiss, while her husband added, "When I deliver, they don't want to let me go."
In some cases, those visits to deliver something as simple as groceries have been life-saving in more ways than one. On a recent visit to a woman's home, Malcolm Reiss discovered a gas leak, then immediately got her out of the house and called 911. On another visit, he found a roof leak in a resident's home, so he worked with The Salvation Army to bring a contractor out to fix it.
The number of "food insecure" seniors is projected to increase by 50 percent when the youngest members of the "baby boomer" generation reach 60 years of age in 2025. Worse yet: hungry seniors are 60 percent more likely to experience depression and 53 percent more likely to report a heart attack, among other health problems, according to research from Justice for Aging.
That means the need for services like this one is greater than ever before. DiDonato hopes to inspire other cities to develop similar programs in their respective communities.
"I'm very proud of it," she said. "When you're providing a good service that no one else is providing, people are willing to step up to the plate and help. They realize it could be them one day."