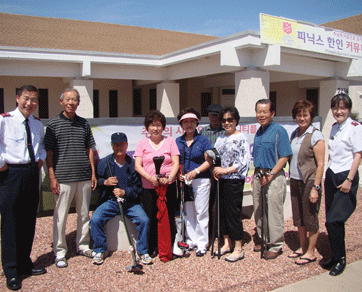 Senior College bustles at Phoenix Korean Corps
A focus on worship and wellness
By Melissa Axman
When Lts. Aeran and Kihyun Oh were appointed to the Phoenix Korean Corps in 2008, they were told that they were going to the "Nothing Corps of Arizona." Nearly three years later, the "Nothing Corps" is bustling with activities and members of the Phoenix Korean community.
Lts. Oh made many changes to the building and programs the corps offers. A coat of fresh paint, relocation of the crest and new signage kicked things off. "People always told us that they could never find the corps. Moving our crest and signs, people don't drive past us anymore," said Aeran Oh.
Along with the physical changes to the building, the Ohs changed the name of their senior program to Senior College. "Koreans are very focused on education. When we changed the name to Senior College our attendance grew," Oh said.
In 2008, approximately 10 seniors attended the corps every Tuesday. Now, more than 50 seniors attend the weekly college. The Ohs attribute much of their growth to advertising efforts in the local Korean paper.
Every Tuesday, three 15-passanger vans pick up seniors across the Valley. By 10 a.m., the worship service has begun. For the next four hours, the corps is buzzing with activities. Aeran Oh drives a group to golf lessons at a local driving range and Kihyun Oh teaches a computer class. Seniors can also participate in bingo, Chinese calligraphy, English class, yoga class or sign up for a haircut.
In the corps' kitchen, six women cook a variety of authentic foods for all participants. After the meal, a presentation on health or spirituality is provided. The day concludes with a group aerobics class. All participants leave with a goody bag full of food.
"The elderly are ignored in communities many times," Arean Oh said. "We want to provide them a program that focuses on worship, exercise, wellness and food."