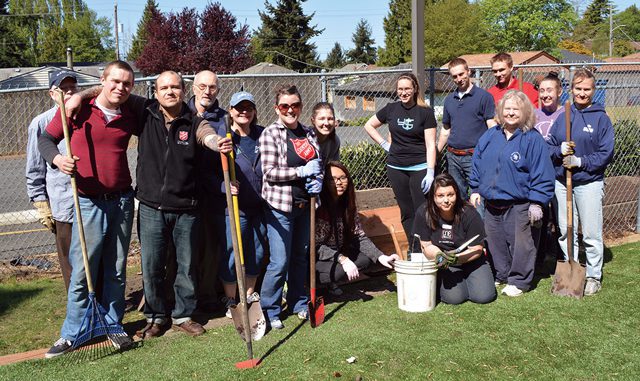 Community garden returns at Seattle Temple Corps
Five other gardens recently planted in north Seattle
By Kevin Pontsler – 
A new partnership between The Salvation Army Seattle Temple Corps and the Seattle Tilth is bringing fresh opportunities for growing organic produce in the Greenwood area.
A group of nearly 30 volunteers recently spent a morning cleaning, weeding and revitalizing two existing 4'x8′ growing beds, as well as building and installing a third, raised bed on a portion of the playground area between the corps building and the Silvercrest senior housing next door.
Seattle Temple Corps Officers Majors Rob and Amy Reardon developed the project idea after attending a presentation of Seattle Tilth, which works to help people grow organic food.
"This has been a dream of ours, to involve the congregation, and the community really, in a gardening project where the fruit of our labor will be distributed among all people," said Rob Reardon.
The new effort is a renewal of a gardening program started by the Seattle Temple Corps 10 years ago. The original garden, which occupied the same spot, was active and popular. Former Director Mileene Bryant remembers how the day care children loved the gardens, even when they were nothing but boxes of dirt.
"The garden was good because many of them didn't have a clue where food came from," Bryant said. "The parents loved it and really got involved, as did people from the Silvercrest residence, who would come down and give advice."
Today, the garden at the Seattle Temple Corps represents one of six recent gardens planted in north Seattle, and the plan is for all six groups to collaborate and share information. Seattle Tilth provided plant seedlings—chives, spinach, and kale—to get the gardens started, and the corps will provide an inventory of what is grown and harvested, as well as how the produce is used.
"If you give a family a bunch of organic kale, they will eat for a day, but if you teach them to grow organic kale, they can actually grow $650 worth of organic produce in a year, from just three garden beds," said Derek Farmer, Just Garden coordinator, Seattle Tilth.
Seattle Tilth formed in 1978 to promote organic agriculture. The Just Garden program and the Food & Faith Initiative developed in recent years to improve food security. Over 20 percent of kids in King County are food insecure, which means they risk going to bed hungry on any given night of the week, according to Seattle Tilth.