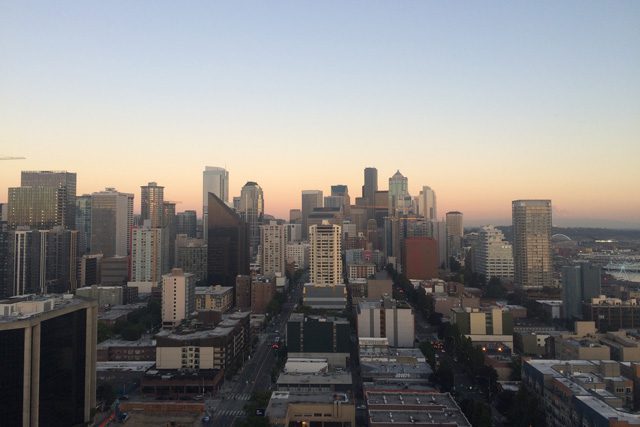 Seattle Salvation Army increases services for at-risk women
24-hour shelter offers added support.
By Kristin Marguerite Doidge –
When 55-year-old Hazel first arrived in Seattle, it was the dead of winter. It was cold and rainy, and while she was grateful to have found a warm place to stay at night in The Salvation Army's Pike Street Women's Shelter, searching for warmth and safety during the day was a struggle.
"We were just hoping and praying for a day program," she said. "And then God blessed us."
The recent change from an overnight shelter to a 24-hour shelter with daily programming during the week has had a positive impact on Hazel and a number of other residents who currently reside there, said Major Lawry Smith, Director of Social Services for The Salvation Army in Seattle.
"It's really helped the women in a big way," said Smith. "Before they had to leave at 10 a.m. and return at 6 p.m., but now they have a safe, secure, healthy place to stay during the day. We can engage with them more and build relationships."
The Pike Street Women's Shelter is a 36-bed shelter for homeless adult women in downtown Seattle, supported by various funders, including the City of Seattle's Human Services Department. The goal is to help women get housed as quickly as possible by providing job and housing support. Smith said the average length of stay is about 75 days.
But many of the women, such as Hazel, are over the age of 50, and might be coping with illness or perhaps juggling a graveyard shift and multiple other obligations and appointments. The new day program allows them to cook and make lunch, rest, and recuperate during the day—a much-appreciated blessing for those trying to get back on their feet.
For Hazel—who recently became a soldier through the White Center Corps—that means she can sleep after working overnight, and rest or do laundry in between volunteer shifts at the food bank and church.
"These women have had prominent careers—and they're educated," Smith said. "It breaks your heart. If we can make it just a little easier by making it so they don't have to leave during the day, we can do that for them."
Another way The Salvation Army is working to help making life a little easier for Seattle's most vulnerable women is by expanding its supportive housing services for domestic violence survivors and adding more beds to its women's drug and rehabilitation center.
Through the community advocacy program (CAP)—which is based at the Pike Street center along with the food bank and women's shelter—clients can receive wrap-around services, including case management, counseling, and financial assistance.
To better serve the needs of its clients, the Army will now focus on rapid re-housing for domestic violence clients and their families, said Ciara Murphy, the director of Seattle's domestic violence programs. Funding will be refocused on the expanded CAP program so that more families can be helped and hopefully with more lasting effects.
"Most of the clients who entered from homelessness would exit to homelessness," she said. "It wasn't possible to house them within 90 days, and they weren't engaging with us and our programming. Now, we can help families them move into apartments—help with the deposit and first month's rent, and help them with jobs so it's a more permanent situation and they can put down roots."
Murphy said this kind of advocacy, which is currently led by four case managers who handle about 30 households, will help children to be able to stay in the same schools, to be able to play on sports teams and to participate in other community activities.
She said with the addition of two more case managers, she estimates about 60 families in total will be housed more effectively as a result.
As for those women struggling with a different kind of trauma—perhaps associated with addiction or substance abuse—the local Adult Rehabilitation Center (ARC) is also expanding services.
The ARC is doubling its bed capacity from 12 to 24 and is moving to a new location, which will allow it to uplift women who might need help finding a better path, as Jenni Pooler once did after a five-year battle with IV methamphetamine addiction.
"Coming here totally changed my recovery," said Pooler, who is now the house manager for the House Women's Program at the Seattle ARC. "The person I was three years ago is nothing like the person I am today."
A graduate of the ARC and coming up on almost three years sober, she said she hopes anyone in need now will at least call to learn about the programs offered at the ARC.
"Anybody can call and ask questions," she said. "It's about learning skills and learning to build a life."