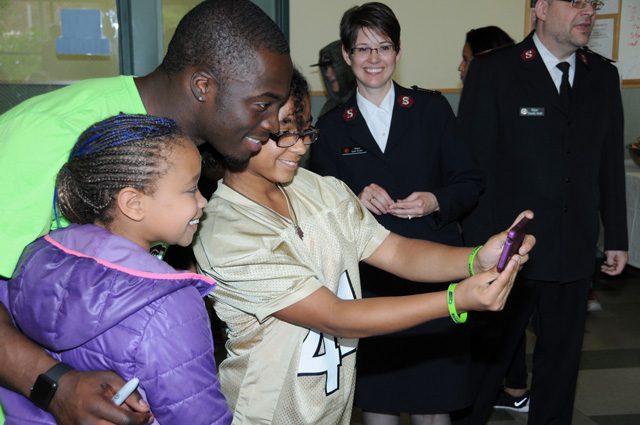 Seahawks land in Alaska
Seattle Seahawks players inspire children, families during visit to shelter.
Two players from the Seattle Seahawks, along with the team's mascot, Boom, visited dozens of children and families at The Salvation Army's McKinnell House family shelter in Anchorage recently. Linebacker Kevin Pierre-Louis, Defensive Lineman Jimmy Staten and Boom shared the Seahawks' spirit and smiles.
"The purpose of their visit was to bring some joy to the hearts of the children and families of McKinnell House and to draw attention to the needs of Alaska's homeless families," said Ivy Spohnholz, development director for The Salvation Army's Alaska Division. McKinnell House is the only shelter in Anchorage accepting single fathers with kids.
Seeing dads enjoying the visit with their kids was a highlight for the players, said Mike Flood, Seahawks' vice president of community relations.
The event included a question-and-answer session, including children staying at the shelter and those visiting from the nearby Salvation Army Anchorage Corps Community Center day camp.
Pierre-Louis and Staten fielded all sorts of questions, from how long they'd been playing football (since 7 years old for Pierre-Louis, and since 7th grade for Staten), to whether they'd broken any bones.
Of course, a few questions came up about Super Bowl XLIX, which the Seahawks narrowly lost in the final minutes. Answers to that one ranged from a good-natured "We'll try harder next time," to, "I think we already answered that one."
A girl named Jasmine asked, "Did you have fun at the Super Bowl?"
"Yes, we had fun at the Super Bowl!" Pierre-Louis responded with a beaming grin.
The Seahawks came in response to an invitation by a member of The Salvation Army's Anchorage Community Advisory Board. The players added the stop in between visits to Wasilla and Barrow, Alaska, where the Seahawks are promoting the NFL Play 60 Challenge to motivate kids ages 6-15 to stay active by participating in physical activity for 60 minutes each day.
McKinnell House and Family Emergency Services  provides emergency shelter and case management to families in crisis experiencing homelessness. McKinnell provides food and secure housing, while helping families develop a plan to move back into independent housing.