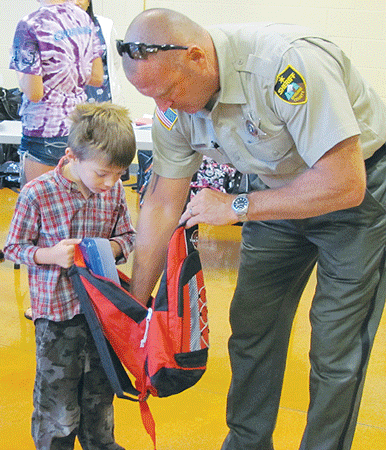 School—it's in the bag!
The Salvation Army in Spokane, Wash., provided 3,748 backpacks to local children—kindergarten through high school—in its annual Backpacks for Kids campaign.
Families began lining up outside The Salvation Army at 5 a.m. on distribution day, and by 8 a.m., when doors opened, the line wrapped around the city block.
"I think most of these kids would have gone to school with no school supplies or very minimal," said Captain Kyle Smith, Spokane corps officer with his wife, Major Lisa Smith. "Kids are proud to show me backpacks. If you have a nice backpack, you're going to fit in."
Local media included coverage by three television stations and a front-page newspaper article. A radio station did a "Burst the Bus" event, with personnel living in The Salvation Army's bus for a week while they solicited donations.
The children were excited, and parents were grateful. Jenny Berg brought three of her six kids to the giveaway; it was their first time at the event. "Only my husband is working right now, so this really helps," she said.
Heather Byrd, Spokane Salvation Army spokeswoman, said, "People assume those who come in here are homeless, but often it's people who are just trying to get by."
The distribution proceeded smoothly throughout the day thanks to the efforts of volunteers and staff.
"We couldn't have done this without Cenex Zip Trip, from the business side," Byrd said. The company raised more than $25,000 for the program by offering free coffee or soda to customers who made donations.
 Information courtesy
The Spokesman-Review