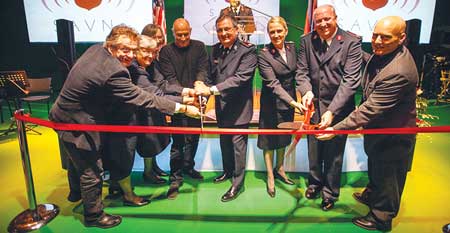 SAVN.tv studio revealed
Territorial Commander dedicates facility for digital ministry.
By Phil Cooke
The Salvation Army Western Territory dedicated the SAVN.tv studio Nov. 16, a state-of-the-art media production studio in Whittier, Calif., with a goal to reach the world for Christ using digital, video, and social media technology.
"This is an historic occasion," said Territorial Commander Commissioner James Knaggs in dedicating the studio. "We dedicate this facility to God, but our gathering today goes way beyond these walls to realize a practical presence and impact of ministry that, focused here, travels around the world and into eternity, all by the grace of God."
Knaggs said the challenge for The Salvation Army is to be available at all times and in more languages. "We need to be culturally relevant and socially appropriate in a biblical context and Salvationist mission," he said. "The newest dimension of the SAVN construct is our social media soldiers initiative… A relationship with God always includes interpersonal relationships with others who are believers and others who are pre-believers."
SAVN.tv—The Salvation Army Vision Network—launched in 2011, led by Executive Producer Guy Noland with Commissioner Joe Noland. It is now developing and training social media soldiers (socialmediasoldiers.com) to leverage the online platform. Under the direction of Captains Robyn and Stephanie Bridgeo, the objective is to train online chaplains and evangelists to connect with people worldwide for evangelism and discipleship.
The network is also writing the code and developing a live video chat module specifically for online Bible studies, small group meetings, and drug and alcohol recovery groups.
"As someone who has personally seen and benefitted from the powerful recovery programs of The Salvation Army, I want to make that life-changing outreach available to millions of people worldwide," said Guy Noland. "It may take years to see it fully realized, but its impact will be unmistakable."
At the dedication, Noland also announced a new Media Arts Conservatory to launch next year that will train youth with digital skills.
In addition, actor and snow globe collector Corbin Bernsen (USA Network's "Psych" and ABC's "LA Law") announced a custom designed "First Edition by Corbin Classic Domes" in partnership with SAVN.tv to celebrate the impact the Army makes at Christmas. Proceeds will go toward conservatory scholarships for underprivileged youth.
"The Salvation Army in the USA Western Territory is committed to this endeavor with real support and leadership in place to actualize and develop the myriad mission possibilities that God allows and encourages," Knaggs said. "We have the facility. We have the equipment. We have the personnel. We have the imagination…and we have the faith to see this into this new day."