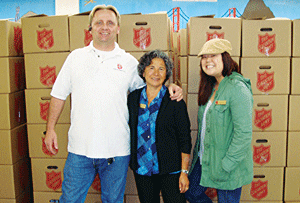 San Francisco's Family Services gets the gold
Department receives gold certification during social services review.
The Salvation Army's San Francisco Family Services Department is a large operation, encompassing multiple corps locations with family service caseworkers, a family service center, a central kitchen and a home-delivered meal program—Meals that Heal. With all this to manage, what an achievement it was when the department earned gold certification during the divisional social services review in late 2010.
Claire Dunmore, San Francisco Metro program coordinator, embraced the program standards, aiming to do what they already did well, even better. "This process promoted a lot of learning for the department…it is great to have a written, fully functional policy and procedure manual for the department—and we use it."
The review process entailed meeting an extensive list of requirements. Prior to assigning scores, the review team inspected each location, interviewed clients and scrutinized staff, volunteers and case notes.
An action plan developed by Cynthia Sutter-Tkel, social services consultant for the Golden State Division, and Elisabeth Hudson, Sacramento County operations social services director for the Del Oro Division, highlighted successes, best practices and areas still to work on.
The Family Services team noted several positive outcomes: a sense of accomplishment, an improved ability to analyze actions taken, seeing strengths and areas for improvement, and most importantly, achieving a better product of service to clients.