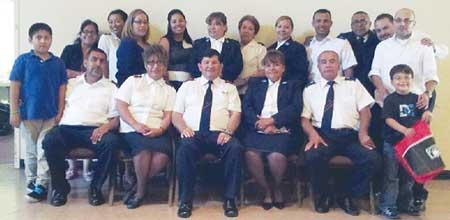 San Fernando hosts Sunday school seminars
Series addresses effectively teaching youth about the Bible.
By Jose Martinez, Captain
The San Fernando Valley Corps (Calif.) hosted a seminar series led by Territorial Multicultural Ministries Secretary Lt. Colonel Zoilo Pardo in early June for Sunday school teachers. It was the second in the series of seminars about effectively teaching youth about the Bible.
"Considering that the most vulnerable part of the corps was the Sunday school structure, it was critical for teachers to gain skills and knowledge on how to continuously adapt to new teaching methods as generations progress," Pardo said.
The seminar series evolved after many corps members expressed interest in the importance of building a strong spiritual foundation for children through Sunday school, so they do not lose their faith as they get older and face the challenges of adolescence. Seminar delegates convened for three consecutive Sundays to improve their Sunday school program.
Topics at the seminar included the importance of Sunday school, class preparation and organization, recommended material and its teaching effect, how to use resources at the corps, innovation and creativity for teachers, cleanliness and presentation of the classroom, preserving cultural religious traditions across generations, and the multiplying effect of God's Word.
"All of these themes focus on the enthusiasm and desire that teachers have to successfully and effectively instruct newer generations entering the corps on God's Word," Pardo said.
In order to accomplish this, the corps, as a whole, decided that the teachers must be taught how to better prepare the children for these challenges, and strengthen the youth at the corps. The hope is that this will prevent the young people from leaving the corps as they grow older.
"It's a great initiative, being that Sunday school is fundamental to any corps," Pardo said. "This corps is doing what it can to make sure that their children are thriving through the Word of God."