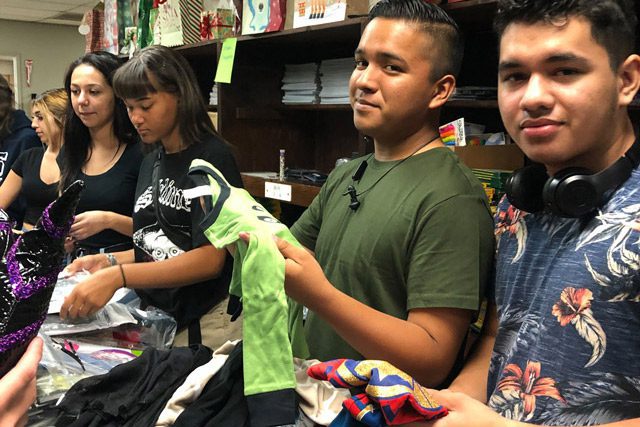 San Bernardino partnership helps send kids to school with dignity
The Salvation Army and YES! give lower-income families some breathing room.
"He opens it and goes, 'Look mom! Look!' He's showing everybody. He looks back down and he says, 'God didn't forget me.'

"I'll always remember that. It's just incredible to have them know that they are precious."
The name "Santa Claus" might draw a little extra chatter every Christmas, but for many people in Southern California's Inland Empire, it's fairly normal to hear the name year-round.
That's because Santa Claus, Inc. has been providing underprivileged kids across the region with clothing, shoes, toys, school supplies, toiletries and other essential items since the 1950s. 
Until 2012, the nonprofit had worked mostly around the holidays. That's when Executive Director Karen DiCarlo zeroed in on two things: the need was growing and it wasn't strictly seasonal. So that year—at a time when the Inland Empire had the nation's highest poverty rate—Santa Claus, Inc. created Youth Enrichment Services (YES!), a perennial program to provide critical needs to youth throughout Riverside and San Bernardino counties.
Last year, the program provided free items including socks, underwear, jackets and backpacks to more than 100,000 youth—over six times more than in its first year. By 2022, its leaders expect that number will more than double again. 
"We have so many volunteers that put in almost full-time," DiCarlo said. "The organization runs with hundreds of volunteers."

While most of the items go to school-aged kids through partnerships with dozens of local school districts and nonprofits, some of them end up with adults and infants, too.
At The Salvation Army in San Bernardino, YES! donations find their way to just about anyone who needs them: grade schoolers, high schoolers, expectant moms, their soon-to-be newborns—you name it. In fact, according to Shirili Valdez, Administrative Aide at The Salvation Army's Hospitality House in San Bernardino, The Salvation Army could never do what they do without the support of YES!. 
"They're always just a call away if we need anything," Valdez said. "They usually contact us to see what our needs are, whether it's backpacks or clothing. Diapers are always a great need for moms. They've actually given us lot of adult clothing…They are absolutely wonderful and they take so much joy in meeting those needs of our kids and our families."
YES! processes all of those donations out of its warehouse and manages all of the pickups and dropoffs with a crew of mostly volunteers, including Lourenco, who's a former school nurse. She spends a lot of time on the phone taking referrals for families and working her magic to get them exactly what they need.

"[When I was a nurse] I saw what the needs of families were," Lourenco said. "I saw that they needed clothes, socks, underwear. So a lot of times, you'd look at a child's teeth and ask a kid if they had a toothbrush and you find out that they're sharing one toothbrush among five family members."
But it's YES!'s commitment to fulfill the more challenging requests that Valdez is always impressed by.
"We had a young man staying here at The Salvation Army a couple years back who was 17 years old, wore a size 14 shoe," she said. "Those cost quite a bit of money and the mother wasn't able to locate them anywhere so I called Sandra and she said, 'If we don't have them, we'll get them.' And in two days that boy had a brand new pair of shoes on his feet…He doesn't have to wear shoes that are duct taped together."
Beyond the essentials, Valdez sends YES! a list of the kids at the shelter who have birthdays that month, and they always get back a gift for each kid and some new clothes to make them feel special. While it doesn't sound like much, Valdez said she'll always remembers one child at the shelter receiving his gift when she was nearby. 
"He opens it and goes, 'Look mom! Look!' He's showing everybody. He looks back down and he says, 'God didn't forget me.'

"I'll always remember that," she said. "It's just incredible to have them know that they are precious."