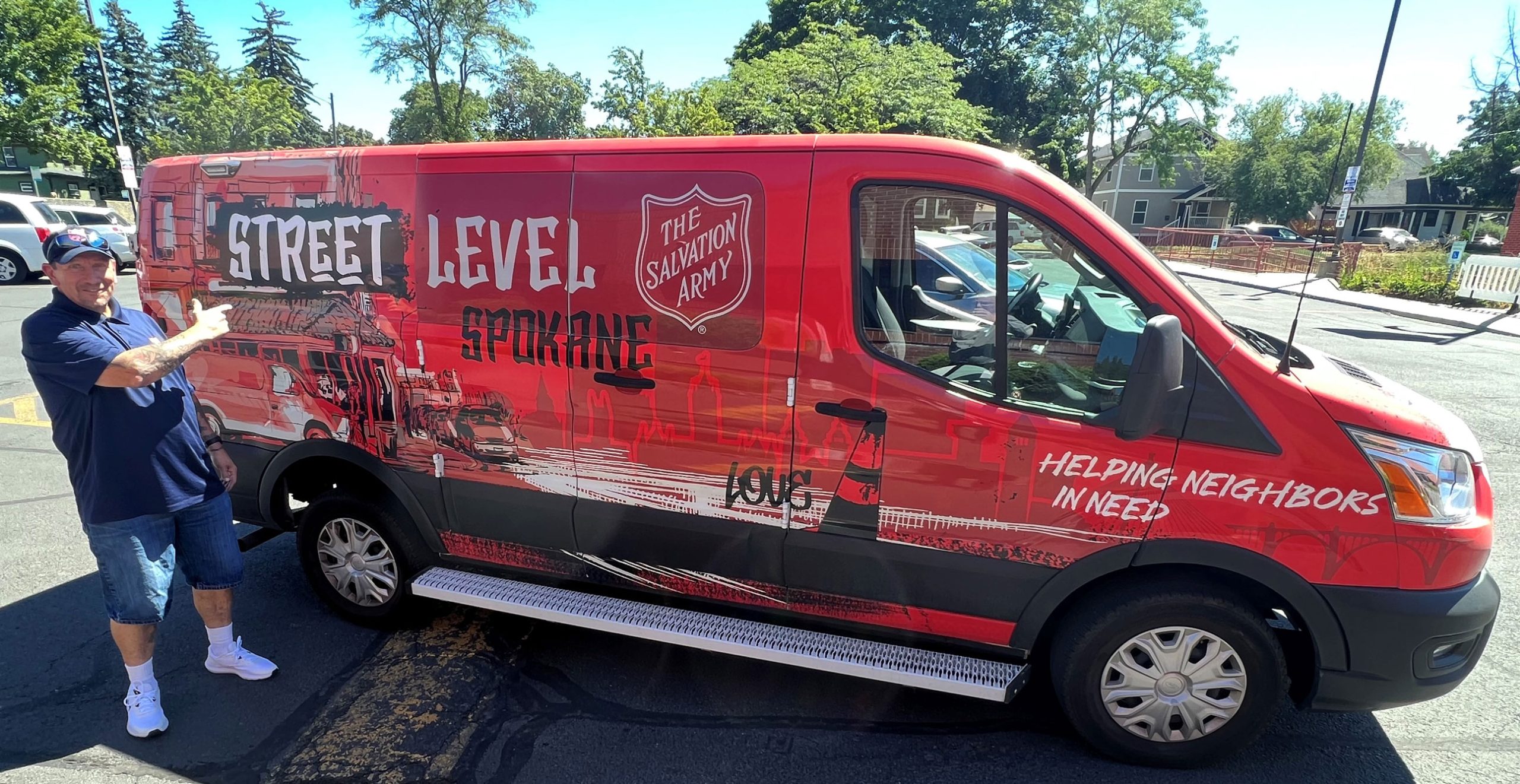 Salvation Army Street Level driver delivers first step to exit homelessness
Two new Street Level Outreach vans will operate 24/7 in Spokane, Washington.
According to Street Level Lead Van Driver Jimmy Maclean, trust is the first step in getting people off the streets and into supportive housing.
Gaining trust through compassionate outreach will now occur around the clock at The Salvation Army in Spokane, Washington, with the implementation of two new eye-catching Street Level vans and the faces behind the wheel.
The Street Level Mobile Outreach program has been operating since 2019, with the goal of meeting people where they are to initiate the re-housing process through case management and connection.
"The vans make people comfortable and open to interacting with The Salvation Army in ways that work for them," Maclean said.
Maclean has been a lead driver for The Salvation Army for eight months. He said once the vans were introduced in May 2023, he knew it was exactly where he wanted to be.
Largely through donations, The Salvation Army Spokane Citadel Corps purchased the vans and then sent them out to be wrapped in the flashy design. The artistic style is in place to showcase the work The Salvation Army is doing in the Spokane community.
One of the two new vans is set up with a computer and the paperwork needed to get an individual's information entered into the case management system. The second van prioritizes transportation, seating up to 12 passengers, and meeting immediate needs of food, water, hygiene items, and first aid kits.
"The vans go out where the homeless are and bring hope, love, respect, resources and opportunities to exit homelessness," said Corps Officer Major Ken Perine. "So when they are sick and tired of being sick and tired, The Salvation Army is there."
How it works
Maclean begins each shift by providing transportation to those in the Spokane area shelters, such as The Salvation Army Way Out Shelter, a shelter for those serious about exiting homelessness long-term, and the city-funded Trent Shelter, which offers emergency immediate housing for up to 350 people.
The Trent Resource and Assistance Center manages the maintenance expenses and staff wages for the van operation.
Maclean considers himself a people person and said he values the time spent with clients because he can be that person who's there to listen and chat.
"I like talking to people and learning their stories," he said. "I want residents to know me because if they know me, they can trust me and continue to build trust with me and those working to better their situation."
Some individuals can be wary of public transportation due to mental illness, disabilities or anxiety, Maclean said. The Street Level vans provide a friendly and safe alternative so that people can stay on top of their well-being.
"They get a hold of us and then I will go to where they are staying and take them to a doctor appointment, Department of Social and Health Service (DSHS) appointment, or wherever they need to go," said Maclean.
According to Brian Pickering, Director of Development and Communication, Maclean's outgoing and friendly personality is a valued trait for a van operator.
"Jimmy is a great guy, friendly no matter what time of day, and open to talking to anyone," Pickering said.
After driving around the Spokane Area shelters, Maclean ventures out through Spokane County from Cheney to Downtown Spokane to Spokane Valley, an area with concern for the growing population of those experiencing homelessness.
"I would say, on average, I bring seven people to a shelter a day," Maclean said. "But I can provide about 30 people with water and other essentials during one trip."
When Maclean transports clients, he is usually alone. However, when he visits areas with a higher homeless population, there are additional employees who accompany him for outreach and support.
Facing the need
The 2023 count of Spokane County, Spokane, Spokane Valley, Deer Park, Riverside, and Cheney revealed an overall increase in the homeless population. According to Spokane City, in 2023, 2,390 people from 2,136 families were counted as being homeless compared to the 1,757 people from 1,513 families in 2022, a roughly 36% increase.
The increase can be attributed to various factors such as mental illness, disability, lack of low-income housing and is a rough estimate for insight into a growing concern.
The vans deliver the presence of The Salvation Army and provide that first form of contact and connection to those who need it most, according to Perine.
"Sometimes people living on the streets don't really have a lot of interaction with somebody who's actually trying to help them enter the shelter system," Perine said. "This program allows folks to interact with our Street Level drivers and teams to build trust and make progress toward getting into the shelter system."
For Maclean, the involvement and connections have become a natural way of making a difference in the community.
"Not everyone is immediately interested in coming up to the van, but after they see us return time and time again, they become comfortable and start to see us in a new, brighter light," Maclean said.
Maclean recalled an 18-year-old client he recently picked up from a hospital and brought to the Trent shelter, who reminded him why his role is worthwhile.
"He had been at the hospital all night, and when I picked him up he was so appreciative to just have somebody to talk to. He said I had just been moved up to his favorite person."
Going forward, Perine and Maclean both want to see the program expand to carry larger teams per vehicle, in order to reach even greater populations.
"The Salvation Army here in Spokane is all about rescuing the perishing, increasing their ability to thrive and restoring a healthy community," Perine said. "The outreach vans can start our efforts in fulfilling this mission."
---
Do Good:
Do you have a hard time telling people what you do, or what you're passionate about and why? Ever stared at a blinking cursor, unsure of what to say or where to start? Or do you avoid writing altogether because you're "not creative enough"? Take our free email course and find your story today.
Subscribe to the Do Gooders Podcast and tune in for good ideas. Get inspiration from the experts on how to do good and find meaning along the way—and join thousands in making an impact for good right where you are.