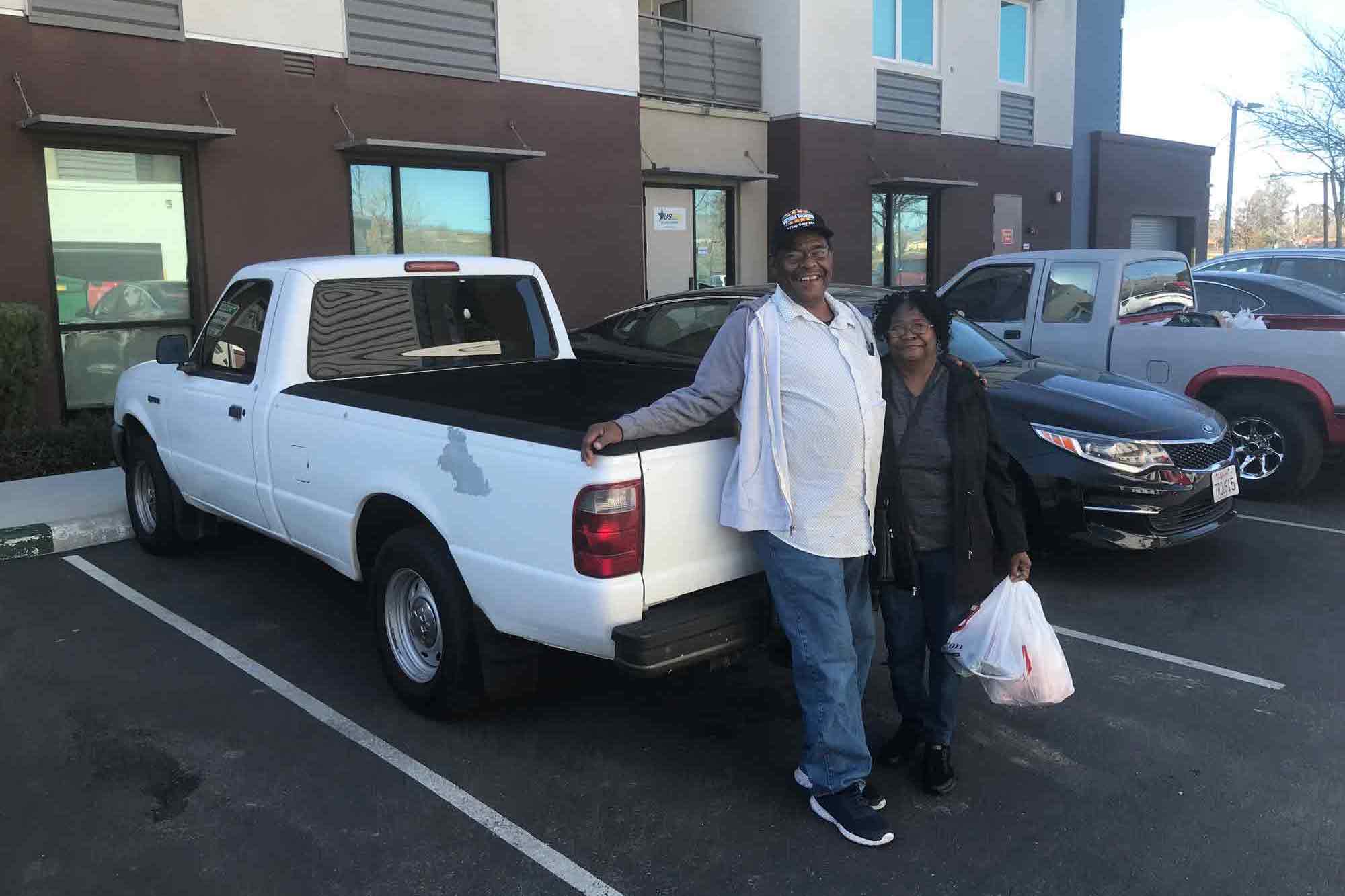 The Salvation Army continues to see lives changed by employment in Moreno Valley
In March 2022, Vietnam Veteran Tommie Murry said he was homeless on the streets of Moreno Valley, California, and addicted to drugs. But he found The Salvation Army Riverside Corps' Homeless to Work Program and turned his life around in less than a year.
Fast forward to nine months later and Murry is thriving. He's off of drugs and the streets, and has full-time employment in maintenance at the local U.S. Vets facility along with his own apartment and truck.
"It was either 'Do something for yourself or give up on life,'" Murry said. "And The Salvation Army, they came through and saved my life. They saved my life and I haven't been back on drugs [since]."
Murry, who is 72 years old, told Homeless to Work Program Coordinator Vincent Fredborg that "the best decade of his life is going to be in his 70s."
"[The program] gave me my initiative back and the inspiration to want to get back into work to do something to change my life," Murry said. "You're never too old. The opportunity is there. All you have to do is take advantage of it. They give you the opportunity, but it's up to you to take advantage."
Murry is one of 109 participants who have completed the Homeless to Work Program and among the 57 who have secured housing and employment.
"After the program, I'm in my own place [with] my own income coming in, paying my bills…and I'm in a great place now," Murry said. "Everything fell into place through that program that I got into. Without it, I don't know where I'd be today."
The Homeless to Work Program—which serves Moreno Valley—offers 90-day employment to individuals facing homelessness. Participants are guided through a hiring process and employed to serve on a Salvation Army crew that works on city beautification efforts in the city.
"When we're working those two days a week for five-hour shifts, I get to know these people," Fredborg said. "It's all about just having a relationship with somebody and getting to know them and meeting them where they're at."
At the end of the program, participants work with their case manager to find full-time employment that is best for them and their needs.
"Vince is very good about learning about comfort zones and triggers and skills and abilities to place someone in a job," said Captain David Cain, Salvation Army Riverside Corps Officer. "It really allows us to find an employment option that will allow them to be successful."
Since the program's start in 2018, city beautification work has expanded. The program is now funded through the City of Moreno Valley's general budget. Now, Homeless to Work crews are free to clean up sites throughout the city without restrictions that were previously in place, impacting sites like parks, city entryways and local business storefronts.
"We were kind of restricted on the areas of the city that we could clean because it was Community Development Block Grant (CDBG) funding that had a map that's associated with it and it was only city-owned parcels of land…We could clean one lot, but right across the street, it'd be really messy and that wasn't funded," said Cain. "But the city said, 'We love the program so much and it's been so successful that we are going to stop funding it through the CDBG funding,' and they just fund us now out of the general budget."
Fredborg said it's easier to find places to take the crew to work now.
"I live in Moreno Valley, so even when I'm out shopping with my wife, if I see a street that needs some attention, we can pick and choose," Fredborg said. "Now that the whole city's opened up, we get a lot more work done. Most of the people on the crew haven't worked in a while, and they really enjoy working and at the end of the day seeing the areas that they cleaned up."
The city was so impressed by the Homeless to Work Program that in September 2022, it arranged a meeting with U.S. Congressman Mark Takano to provide a presentation on the program and its success in the community.
After the meeting, Takano awarded The Salvation Army $2 million in funding secured through the Fiscal Year 2023 Consolidated Appropriations Bill—signed into law by President Joe Biden in December 2022. Of the funds, $1 million was for the Homeless to Work Program and the other $1 million was for the Moreno Valley Emergency Shelter/Rapid Rehousing Program, which supports Homeless to Work Program participants as needed. Both programs are operated by The Salvation Army Riverside Corps.
"[The funding] is a clear example that The Salvation Army has proven itself to be a legitimate solution to addressing homelessness," Cain said. "We are grateful for the funds."
And the funding comes at a time when it's needed most in the community.
"Homelessness in our region continues to rise," Cain said. "There's frustration at a lack of real solutions…The program is a healthy approach that addresses the deeper needs of the person before shoveling resources at them."
While the corps is still waiting on the contractual specifics of how they can spend the money, they have dreams for what the funding could mean for the Homeless to Work Program.
"We'd love to see multiple crews—more than just the one crew. We'd love to offer people more hours than we're offering," Cain said. We'd love to double down on case management because that's a huge component…We have a very clear vision of where we want to be."
But today, Cain and Fredborg are just happy to see that the Homeless to Work Program continues to leave a lasting impact on the lives of its participants.
"I have people who just call me up or stop by my food pantry in their cars that they have bought a year later after leaving the program," Fredborg said. "It absolutely changes lives and the percentage of people years down the road, they're living in their apartments, paying their bills…It's absolutely amazing."
Cain said that there are even some participants who are soldiers at the Riverside Corps now, including Murry.
"They're part of our church family now," Cain said.
And for Fredborg, all of this makes the work even more rewarding.
"It's absolutely amazing that The Salvation Army and the City of Moreno Valley allow me to do this work," Fredborg said. "The lives we get to save through this program are invaluable."
---
Do Good: