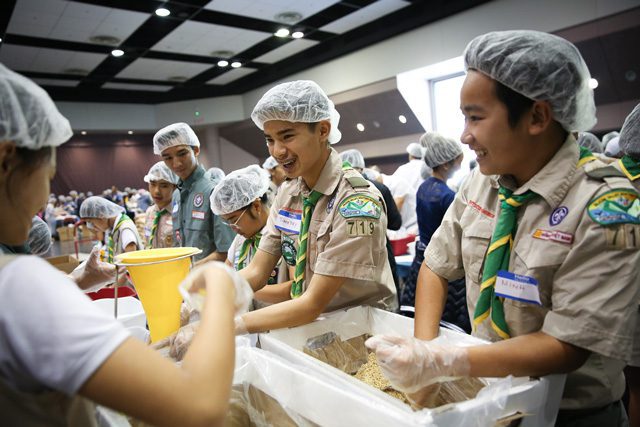 Salvation Army relief efforts ongoing in Saipan
The Salvation Army is providing thousands of meals to those impacted by Super Typhoon Yutu.
Salvation Army Emergency Disaster Services (EDS) in the Western Territory provided continuous relief in the aftermath of Super Typhoon Yutu. The storm, which struck the Northern Mariana Islands in the western Pacific Ocean on Oct. 24, was the strongest tropical cyclone to ever impact the Mariana Islands and the second-strongest to strike the U.S. or its territories.
Guam Corps Officer and Micronesia Coordinator Major Thomas Stambaugh, who traveled to Saipan to help the EDS team, reported that as of Nov. 8, volunteers had distributed 14,380 meals.
Meanwhile in California, The Salvation Army in Silicon Valley, led by Silicon Valley Coordinators Majors Roy and Paula Wild, prepared 80,000 meals for the relief effort. The Salvation Army partnered with The Outreach Program to prepare the food packets, assisted by hundreds of volunteers from the Vietnamese National Association of Real Estate Professionals.
"It was amazing to see over 500 volunteers from Silicon Valley come together to enable The Salvation Army to provide disaster relief to typhoon victims in Saipan," Roy Wild said. "It was a wonderful example of community and showed  how generous the residents of Silicon Valley are to those in need whether it be local or around the world."
The UPS Foundation donated the transport of the meals to Saipan; National Headquarters and Salvation Army World Service Office have a relationship with the Foundation, which provides global shipping for Salvation Army emergency efforts.
The Salvation Army is working with the Saipan Commissioner of Education for the distribution of the 80,000 meals, planned for Dec. 4, when schools reopen. Stambaugh plans to return to Saipan for the school distribution.
Currently, only emergency management personnel may enter Saipan; no tourists or non-essential personnel are being allowed entry.