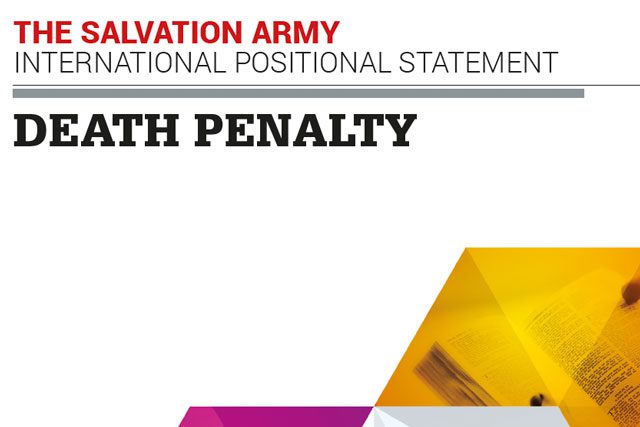 New International Positional Statement calls for end to death penalty
The Salvation Army released a new International Positional Statement, approved by General Brian Peddle, on the death penalty. A positional statement is an articulation of the official viewpoint of The Salvation Army. Each is crafted with careful and prayerful thought by the International Moral and Social Issues Council, which is composed of Salvation Army officers and soldiers from all over the world. 
This new statement recognizes that the subject is controversial, but puts forward a clear and strong position, stating: "The Salvation Army affirms the responsibility of government to create and sustain justice, and while it recognizes that this includes punishment, The Salvation Army calls for the end of the use of the death penalty."
Acknowledging the Army's worldwide experience of ministry with offenders, victims and their respective families, the statement adds: "The Salvation Army, in recognizing the need for there to be consequences for criminal acts, advocates that such consequences should allow for the rehabilitation of offenders. The Salvation Army uncompromisingly stands for life."
As well as stating the position, each document expresses the scriptural and theological grounds for the statement and the underlying principles. Officers and others representing The Salvation Army are expected to speak consistently with the stated position, which is available to view by the public. It is understood, however, that individual Salvationists may hold different views on some subjects and acceptance of the official position is not essential to membership.
Find the full statement—including context, biblical exploration of the issue and suggested practical steps—alongside all current positional statements at sar.my/ips.