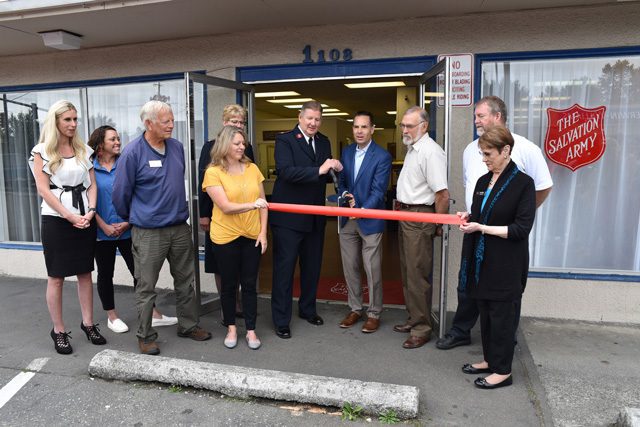 Salvation Army opens new social services office in Marysville, Washington
The Salvation Army of Marysville, Washington, celebrated its new social services office with a ribbon-cutting event Aug. 9. Marysville Mayor Jon Nehring joined Northwest Divisional Commander Lt. Colonel Bill Dickinson to cut the ribbon. 
"We are genuinely grateful for what The Salvation Army does in Marysville," Nehring said, adding that the Army is "critical in the community."
Also attending the event were Northwest Divisional Director of Women's Ministries Lt. Colonel Lisa Dickinson, Northwest Service Extension Director Shaun Jones, and members of the local Advisory Board and the Marysville City Council.
The new location is a place for "hope, relationships, community and assistance with a hand up, not a hand out, today and into the future," Bill Dickinson said.
The new facility coincides with the Army's recent decision to transition from a corps to a service extension office in Marysville. The new office is located on a busy street in the central part of town, with easy access from public transportation. Services to the community have already increased. In recent weeks, community meals have increased from three to four meals per week, and a mobile laundry truck visits the building every week.
 The Marysville service extension office will be managed by social services employee Jenny Roodzant, who has worked for The Salvation Army in Marysville for four years and is familiar with the community and clientele.