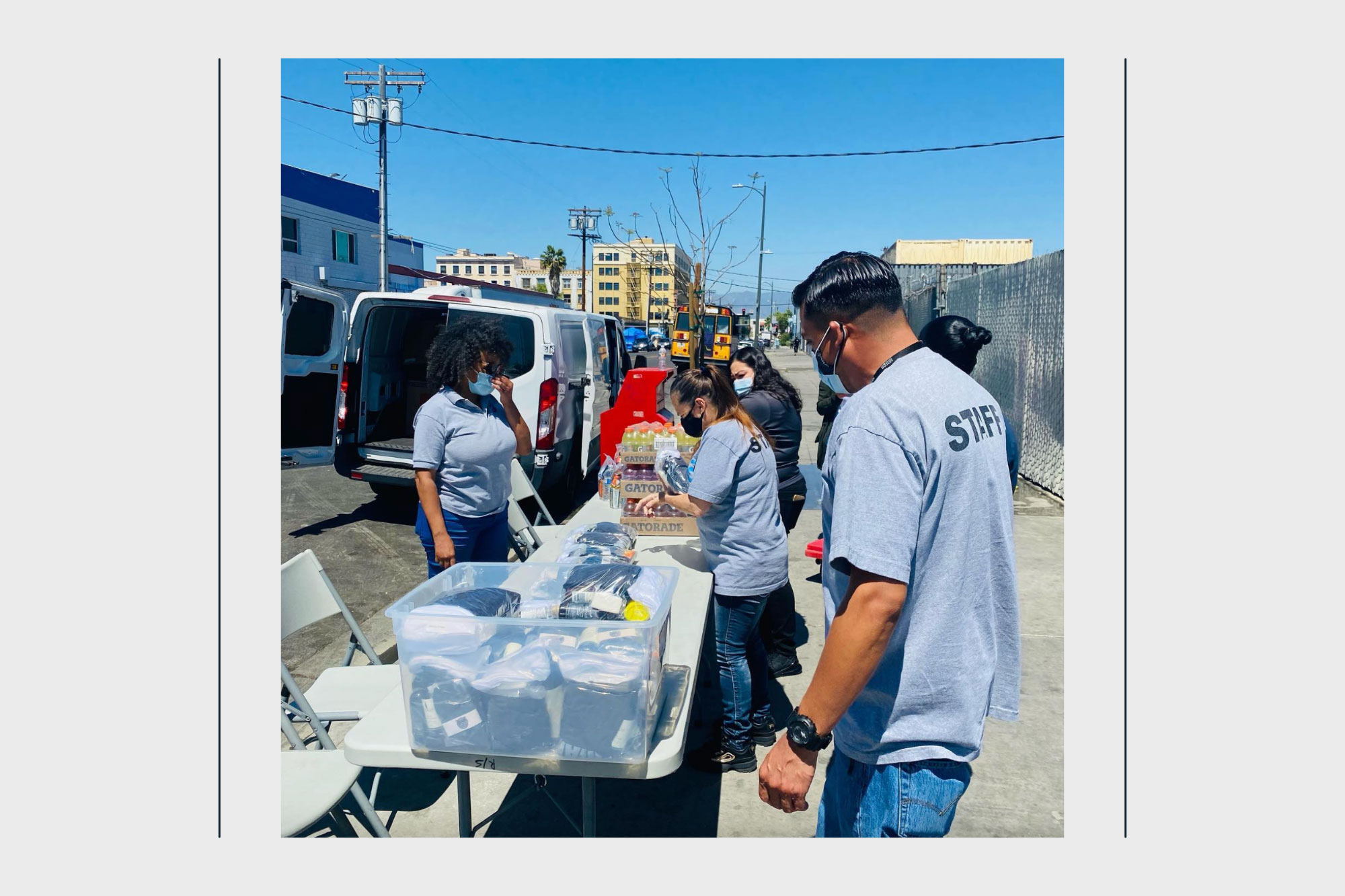 How The Salvation Army offers resources and care to those on LA's Skid Row
Skid Row, located in Los Angeles County, is known by many as a place of immense hardship, where an estimated 4,400 individuals are without a home, according to the 2022 Greater Los Angeles Homeless Count.
The Salvation Army LA Metro Team, as an extension to the Los Angeles Metro Coordination, provides community outreach to those on Skid Row through a mobile service van. Team members offer personal essentials and links to housing, and are dedicated to developing relationships with Skid Row residents.
"Over the past three years, the Skid Row program has developed and branched out from L.A. Central Corps to L.A. Metro Command," said Captain Angel Amezquita, Los Angeles Central Corps Officer.
The change allowed for the outreach to operate more independently and focus on case management for numerous clients to secure housing.
"You name it, we do it," said Skid Row Ministry Coordinator Danielle Gaskins. "We act as a no-barrier mobile access center for the community and we work closely with many of the other outreach agencies down there, too."
Before the Skid Row outreach program began, Gaskins worked in the addictions rehabilitation program at The Salvation Army Bell Shelter. She provided Skid Row outreach assistance while working as a ministry assistant.
For the past year, Gaskins has managed much of the L.A. Metro Team's outreach responsibilities single-handedly with occasional help from volunteers.
In May 2023, Jamahl Dunn joined Gaskins' team as an outreach associate, effectively increasing the current team size to two employees.
"What we do at Skid Row is create or enhance options and paths to safer living, life essentials, better physical, mental and spiritual care, community resources and assist residents based on their unique set of circumstances," Dunn said.
Dunn plays a vital role as a second point of contact for individuals in need of housing.
"He's been a great addition to the team. We're small but mighty and I'd say we're definitely making an impact," Gaskins said.
Since the mobile outreach began nearly three years ago, over 30,000 items, including personal protective equipment (PPE), hygiene products, tents, sleeping bags, blankets, and food and drink, have been distributed to those in need.
The LA Metro Team's presence has become well-known on Skid Row with regular visits to specific locations on Tuesdays, Wednesdays and Thursdays, and clients are often aware of where the van may stop next.
Gaskins said they commonly park in front of public access centers throughout Skid Row, such as The Refresh Spot—facilities developed for individuals facing homelessness to come and shower, wash clothing, spend time in a library, and charge phones.
The team usually anticipates a line waiting for them before they even arrive.
"They've come from far and wide because they heard we can help," Gaskins said. "It's kind of like a word of mouth thing where people hear that we were able to help this person or that person with shelter or housing—and so there are always people coming around hoping to get their needs met."
Housing is the number one need they see. However, connecting people to housing is a process that can bring multiple obstacles, according to Gaskins.
"Because there are several hoops to jump through when finding housing, our job is to help people navigate those hoops successfully without giving up," she said.
The team utilizes the HMIS (Homeless Management Information System) Clarity database, which helps input individuals' information into a profile so that they can be matched with potential housing opportunities.
"Because there are several hoops to jump through when finding housing, our job is to help people navigate those hoops successfully without giving up." – Danielle Gaskins, Skid Row Ministry Coordinator
The first step is to ensure clients can provide proper documentation, such as ID or Social Security information, so that complete database profiles are created and ready for potential matches, given the growing number of new permanent supportive housing options available.
Gaskins and Dunn said they are motivated by the people they serve and the commitments they have made to them.
"There are days where I'm like, I think I'll work from home today, or maybe I'm not feeling it, but what motivates me is, 'I told this person I would be there,' or 'I know that this person is going to come and they'll be waiting to see me and the truck,' and so then I'm even more motivated to just be there," Gaskins said.
She recalled a woman they helped named Tracy, who came to her around nine months ago. She was sober for 25 years but relapsed and found herself on the verge of being evicted.
"For Tracy, there were ups and downs and hoops for her to jump through. We just supported her in jumping through those hoops, without judging her or being critical of her choices and always letting her know that when you're ready, we're here," Gaskins said.
After months of case management, they found a housing opportunity for Tracy and she was able to receive the keys to her new apartment with Gaskins by her side on apartment intake day.
"It was amazing to see because she had really lost everything and was falling through the cracks. These outcomes are why I do what I do and this chapter of my life is here to serve people in this predicament. I know this, and I love it."
Gaskins wants to see a future where the program expands to reach a larger group while remaining impactful to continue seeing success stories like Tracy's.
"This is my calling for now and there's truly nothing else I would rather be doing," she said.
---
Do Good:
Do you have a hard time telling people what you do, or what you're passionate about and why? Ever stared at a blinking cursor, unsure of what to say or where to start? Or do you avoid writing altogether because you're "not creative enough"? Take our free email course and find your story today.
Subscribe to the Do Gooders Podcast and tune in for good ideas. Get inspiration from the experts on how to do good and find meaning along the way—and join thousands in making an impact for good right where you are.