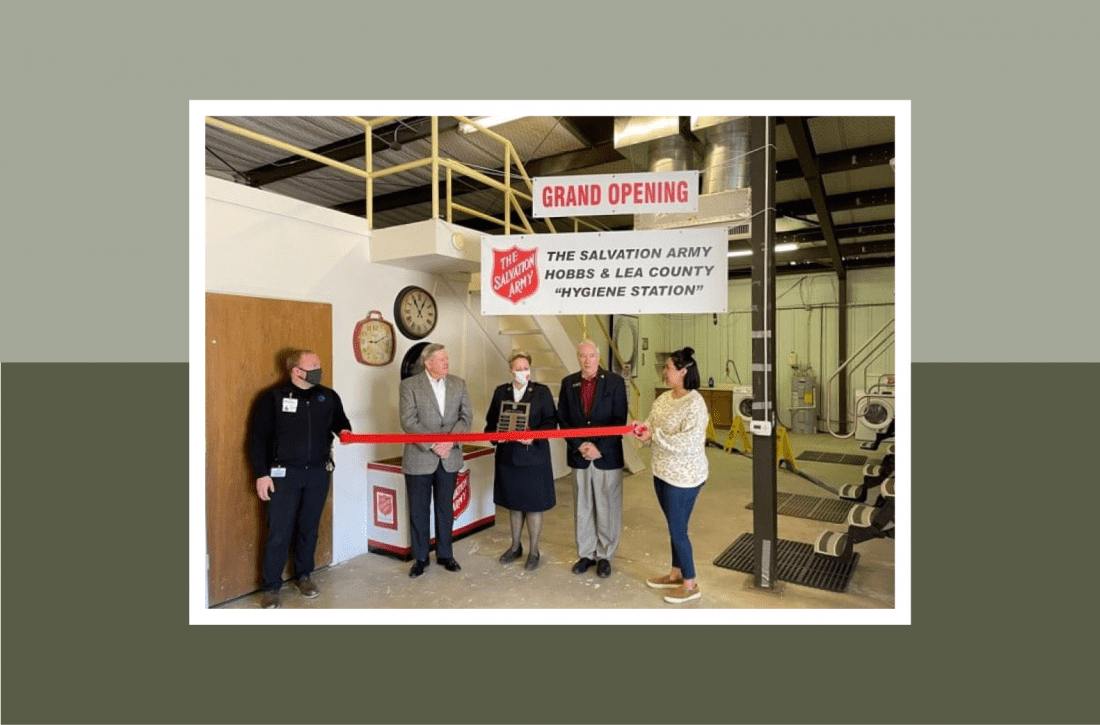 Hygiene Center brings dignity for those experiencing homelessness in New Mexico
After nearly two years in the making, The Salvation Army Hobbs (New Mexico) Corps opened its new hygiene facility—The Salvation Army Hobbs and Lea County Hygiene Station—to the public. The space is designed for those experiencing homelessness to have opportunities to take a shower, do their laundry and receive new clothes. 
"I was homeless myself. I know that a shower is necessary for dignity," said Lieutenant Shannon Brown, Salvation Army Hobbs Corps Officer. "My biggest thing is I just want dignity for people—dignity which I'm hoping will spark up and set a fire of hope inside people." 
The Hygiene Station is located in the former Salvation Army thrift store building in Hobbs. It consists of a Salvation Army Western Territory Emergency Disaster Services shower trailer with six shower units. The trailer will remain at the Hobbs facility except for when it's needed for emergency response—but it will be returned. 
Additionally, the center has a washer and dryer for clients to do their laundry and a rest area for those waiting for services. Clients will also receive towels, hygiene kits with toiletries and clothes if they need them. Laundry detergent and softener will also be provided.    
The Hygiene Station is open from 10 a.m. to 2 p.m. on Tuesdays for women and on Thursdays for men. Parents are able to bring their children with them during their scheduled time slots. Clients are already responding well to the new facility. 
"They're very happy with it. There's no place for them to do any kind of laundry or personal hygiene unless they pay," said Stella Torres, Salvation Army Hobbs Corps Family Services Coordinator. "If you're homeless, you really can't pay. To them, it's a fantastic service." 
Funding for the Hygiene Station came from a grant awarded through the United Way of Lea County for over $22,000 in 2019. Former Salvation Army Hobbs Corps Officer Major Lisa Smith—who was promoted to Glory in February 2021—had the original vision for the facility and applied for the grant. 
"[The Hygiene Station] was Major Lisa's dream," Torres said. "We try just to add on to it and continue to follow up on her dream for her." 
And the need for the Hygiene Station is just as great now as it was in 2019. 
"We have a sizable amount of homeless [individuals] in Hobbs," Brown said. "I'm seeing more new faces out on the streets since I first arrived here. The need is there and it's been here prior to my arrival." 
The opening of the corps' Hygiene Station also comes as the summer approaches with warmer weather—making shower and laundry services for individuals facing homelessness in the community even more important.  
"I think it will pick up, not only because it'll be much hotter, but it'll also be a place where they can come and get a bottle of water and get out of the sun and the heat," Brown said. 
Torres also noted that nothing like the Hygiene Center existed for the homeless population of Hobbs before. Additionally, the lack of shower access makes it even more difficult for individuals to secure employment. 
"There was really no place for our homeless population to take a shower, unless they went to the truck stop and then it cost them $15 or more to take a shower," Torres said. "This gives them a place to come to clean up, so they can look presentable if they're out there looking for a job." 
Brown would like to build showers in-house and make the Hygiene Station "a more permanent fixture." In the short term, she hopes to expand the number of days the facility is open during the week and garner more partnerships with other agencies in the community. 
Ultimately, however, she longs to make a lasting impact on clients using the facility.
"I hope they feel better about themselves. I hope they see The Salvation Army is trying to stand in the gap and meet needs in different ways and is thinking outside of the box and looking at homelessness from a different perspective," Brown said. "It goes back to William Booth's, 'Soup, Soap, and Salvation.' They need showers. They need to feel clean and good about themselves and have some clean clothes to put on, and then maybe you can minister to them. Soup, soap, and then comes the salvation." 
---
Do Good:
What cause best fits your personality?

Take our quiz

and discover where you can make the biggest impact today in the Fight for Good.