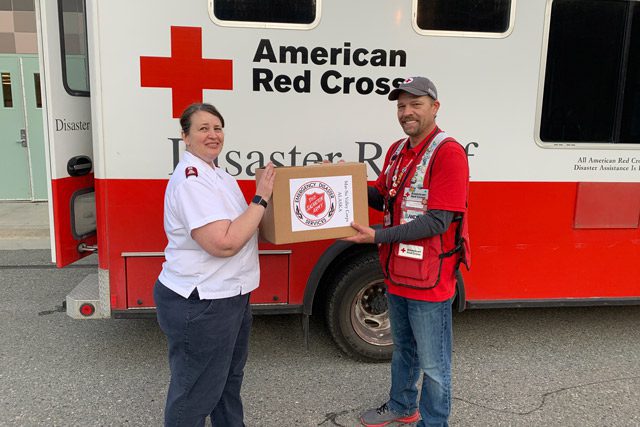 Salvation Army offers hope after Alaska fires
Mat-Su Valley Corps in it for long-term 
By Kristin Marguerite Doidge – 
When a major wildfire broke out in Southcentral Alaska Aug. 17, The Salvation Army Emergency Disaster Services (EDS) quickly stepped in to assist victims. Staff and volunteers provided special care and attention in the emotional aspects of recovery after hundreds of residents were evacuated from their homes, in addition to food, water and shelter.
But weeks after the fire's rapid spread—as of Sept. 9, the McKinley fire had burned an estimated 3,288 acres and destroyed 52 homes, three commercial structures and 84 outbuildings—there's still much work to be done for local families, schools and businesses to resume normal life.
"Some people are still just trying to process what happened," said Major Tina Bottjen, who alongside her husband, Kevin, leads The Salvation Army Mat-Su Valley Corps. "Even for those who were able to return to their homes, they came and asked for prayer because they'd lost all the food they had saved for winter." 
While the emergency shelter that had been set up at the Menard Sports Center in Wasilla closed on Aug. 29, recovery efforts are underway in Willow, said Bottjen. FEMA funds will be distributed to residents whose property has been damaged by the fires. 
She said a range of people have been displaced, but that she had mostly met with families, offering encouragement as they shared their stories of loss and fear. Some evacuees are staying with friends and family while they wait for next steps.
Going forward, the key will be ongoing cooperation and coordination between local community organizations, said Major John Brackenbury, The Salvation Army Alaska Divisional Commander.
"The Salvation Army Mat-Su Valley Corps Officers are working with partners of the Mat-Su COAD [Community Organizations Active in Disaster] to identify and assist with long-term recovery needs," he said, adding that the biggest need is monetary donations as specific needs are identified.
Clothing and household item donations are also being accepted at the Wasilla and Anchorage Salvation Army thrift stores.
Those in need will receive vouchers to make purchases, but Brackenbury also said the local Mat-Su Valley Corps is there throughout the year for support, including emotional and spiritual care, food assistance through the food pantry, and clothing and household items.
"The Salvation Army is always available to help provide for those with basic needs," he said. 
A total of 10 Salvation Army officers, three staff members and 69 volunteers helped with The Salvation Army's emergency food service at the Menard Center where more than 1,500 meals were served to those staying at the emergency shelter. Backpacks and school supplies were also provided for children who had been evacuated. 
"Because of The Salvation Army's swift response to help with the emotional needs of those affected by the wildfires," Brackenbury said, "we were able to alleviate some of the emotional pain that these individuals have been put through in losing their homes, which held memories, livelihood and grounding.