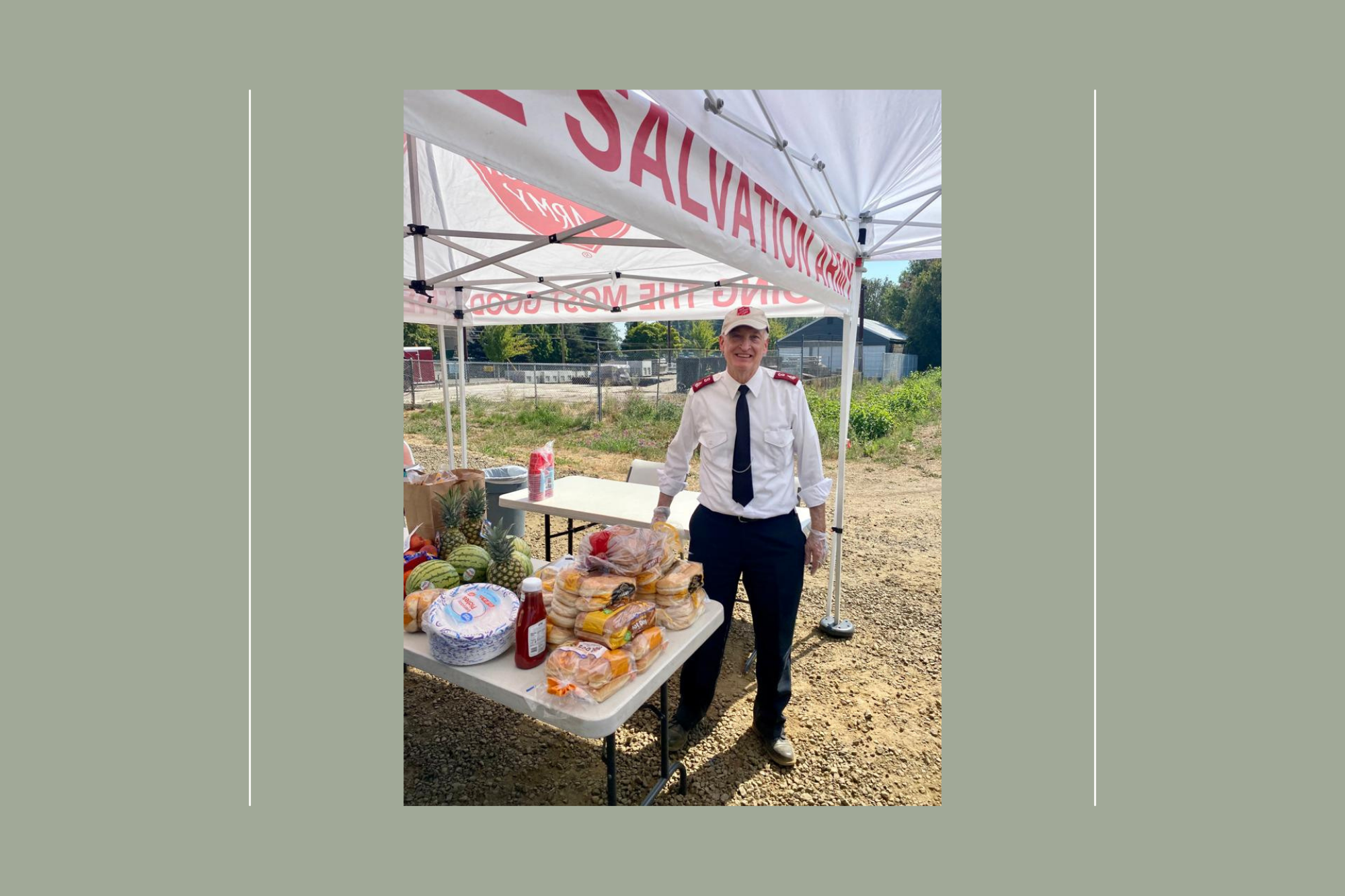 How the Cascade Mobile Outreach Ministry creates lasting change in people's lives
A Salvation Army outreach ministry serves unhoused individuals in underserved areas outside Portland, Oregon.
"I never thought I'd be on this side of things, and needing help," said Lee Spear, who became homeless in December 2021. Even without a house or an apartment to call home, she said she was lucky—she still had her car, where she was living with her dog. But unlike some individuals who remain unhoused for years, Spear was able to move into an apartment by the following summer. She credits The Salvation Army Cascade Mobile Outreach Ministry with making this possible.
In November 2021, the Cascade Division launched its grant-funded Mobile Outreach Ministry with a 15-passenger van, aiming to help prevent and end homelessness in the more rural, underserved communities outside Portland, Oregon—the Tri-County area of Washington, Clackamas and Multnomah counties. Presently, led by Street Outreach Coordinator/Head Case Manager Josh Neal, the focus is Washington County.
"Washington County actually approached The Salvation Army and asked us if we were interested in helping them do outreach into their homeless encampments," said Portland Metro Coordinator Major Bob Lloyd. "They understood that The Salvation Army had, generally speaking, the experience and administrative depth to support that kind of work…We are closely connected to the Joint Office of Homeless Services that distributes funding within Multnomah County and we're connected to Washington and Clackamas counties, too."
Lloyd said The Salvation Army is looking to expand the outreach team into the rest of the greater Portland metro area. Currently, the ministry operates out of The Salvation Army Tualatin Valley Service Center in Hillsboro, Oregon.
"That's where Josh kind of hangs his hat, parks the vehicle and so forth," Lloyd said. His responsibility is out on the road."
The Mobile Ministry van operates as a mobile office for outreach and case management services, including housing retention, outreach and engagement, basic needs—food, shower, laundry—intensive case management, health care navigation, and housing navigation and tenancy support.
"I get referrals from the police department, fire department, schools, even librarians—calls for different situations," Neal said. "It might be individuals who are camped out or who are about to get evicted. So the focus of this is dual: trying to pull some out of homelessness and prevent homelessness as well."
Recently, Oregon became the first state in America to decriminalize possession of personal-use amounts of heroin, methamphetamine, LSD, oxycodone and all other drugs.
"That in addition to people losing their jobs during the COVID pandemic, and the escalating costs of rents in our area has led to an epidemic of homelessness," Lloyd said. "In recent months, more and more municipalities are trying to regain control of the streets and are pushing many of these folks into more remote areas. It's really become necessary for us to utilize our outreach vehicle to physically drive to these areas on the edges of the county and connect with people and help them address whatever barriers are causing their homelessness."
Partnerships with other service organizations make it possible for Neal to address the wide variety of needs he encounters. And he credits the name recognition of The Salvation Army for opening many doors, both with partner agencies and with those he serves.
"It's in the public consciousness, right? If nothing else, [clients] associate The Salvation Army with kettles, or after-school programs or our stores," he said. "I think it's the favor of God that I never get anyone that turns me down. If you walk up to people and they believe that you really want to and will help them then they're usually willing to tell you their story—how they want to change their life in some way, shape or form, or at least get out of their current circumstances."
Neal provides ongoing, wraparound case management to the individuals and families he helps. He makes sure their car insurance and tags are current, and that they have social security and ID cards.
"There's been money in the budget for paying things like back storage fees, minor repairs on vehicles," he said. "When I'm working with them, I'm helping them into job training or helping them find jobs, working with them on their resume…I can do all those things, including making insurance payments."
Lloyd said The Salvation Army is fortunate to have Neal, who has years of experience in international relief work, including with Samaritan's Purse.
"He has a passion for the physical and the spiritual well-being of people," Lloyd said. "He loves the Lord…He not only goes into homeless encampments, but he takes families to the movies, to church on Sundays. He has managed to get at least one client into our Veterans and Family Center."
Recently, Neal arranged for some children living in an encampment to attend The Salvation Army Camp Kuratli at Trestle Glen in Boring, Oregon, for a week of traditional summer fun.
"I try to focus on doing good, on caring work and showing people kindness," Neal said. "What's important is the planting of seeds and getting people and kids in the church and praying over them, sharing the gospel with them. When Christ comes into their life, that's when the real change takes place. That's the driving force of this."
Spear credits a woman walking a rabbit for her connection to the Mobile Outreach Ministry. During the time she was homeless, she made friends with a man living at the Veterans and Family Center. She visited him often, and while there one day she had a chance encounter.
"I was out walking my dog, who lived in my car with me, and I saw this woman walking her rabbit," she said. "And I thought, well, now I have to meet this person. And so, so a rabbit introduced me to his owner, Tamela."
Tamela Ivie, who had once received help from The Salvation Army, recognized that Spear could use some assistance. Spear said after a conversation, mostly about their pets, Ivie took down her number. Within days she heard from the Mobile Outreach Ministry and within five weeks she was in an apartment.
"Tamela got the whole thing in motion," Spear said.
Just as Ivie is paying it forward, Spear plans to do likewise, now that she's come to know The Salvation Army. She said she probably never would have contacted a church for help.
"But every time I have walked away from any kind of contact with The Salvation Army, I have realized that my shoulders weren't up around my ears," she said. "I did not ever feel like I was going to be pounced on by someone—asked for something in return. I don't think many people realize there's that kind of unconditional welcome."
These days, when she has extra household supplies, she gives them to Neal, knowing he'll give them to whoever needs them.
---
Do Good:
It's because of people like you that The Salvation Army can serve more than 31 million Americans in need each year. (That's almost one person every second, every day.) Your gift helps The Salvation Army fight for good all year in your community. It's an effort to build well-being for all of us, so together we rise. And that good starts with you. Give to spread hope with a donation of funds, goods or time today.
What does it mean to do good? Where can we discover joy? What is it really like to be homeless? How can I raise a kind kid? Subscribe to The Do Gooders Podcast to find these episodes and much more—all to help you be inspired to do good right where you are.
Discover how another mobile ministry, Street Level, is making a difference in the Northwest.