Salvation Army in Oakland raises 10k masks, delivers to first responders
The Salvation Army stepped up its coronavirus emergency response in Oakland, California, in recent days to meet the growing needs of first responders and the most vulnerable. The Oakland Chinatown Corps participated in #GetMePPE Bay Area and started the "Let's Fight COVID-19 Together Project." As a result, they were able to collect 10,000 medical-grade masks from individuals, churches, community clubs and other non-profits and donate them to area first responders. On April 1, the corps delivered 2,560 KN95 masks to Kaiser Hospital in Oakland.
The following day, The Salvation Army, in partnership with Paul Biondi, Alameda County Social Services Agency-Procurement Division, delivered nearly 900 pairs of men's and women's underwear and 1,496 pairs of socks for distribution to housing-insecure individuals who are currently staying at local hotels, arranged by Alameda County. The Salvation Army also recently delivered hundreds of pairs of men's and women's sweatpants and sweatshirts to be distributed to area homeless as well.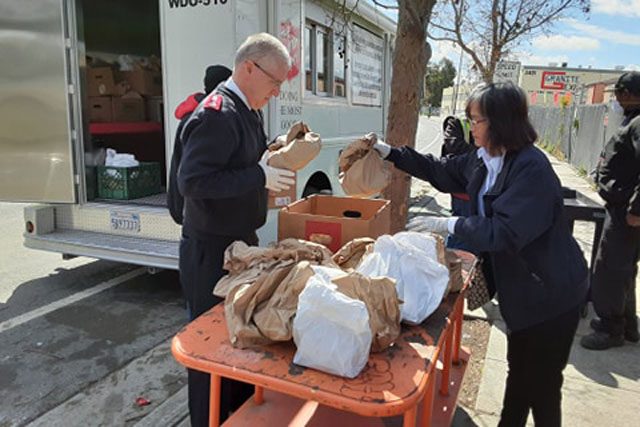 Since the shelter-in-place order took effect last month, The Salvation Army in Oakland has served more than 3,400 meals to the homeless, including 2,135 sack lunches, that have been delivered to local encampments and tiny home communities in partnership with Operation Dignity.
The Salvation Army continues to distribute food to the poor and hungry multiple times a week at three different sites in Oakland, Hayward and Newark. 
HOW TO HELP:
If you'd like to make a monetary donation, please

click here to make a gift.

Text 'GIVE' to 52000 to make a $10 donation to The Salvation Army. This will automatically add a one-time donation to your next mobile phone bill.

For information about volunteering, please visit

volunteer.usawest.org

.

To learn more about how to support The Salvation Army's relief efforts,

please click here

.