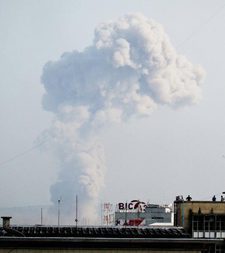 Salvation Army facilities damaged in Republic of Congo explosions
The Salvation Army responds after explosions rock Brazzaville, Republic of Congo.
A Salvation Army team is investigating how best to help people forced from their homes by a series of massive explosions in the Mpila area of Brazzaville, the capital of the Republic of Congo. Up to 200 people were killed in the disaster—though this number is likely to rise—with more than 1,500 injured. Many of the dead were worshipping in a church that collapsed.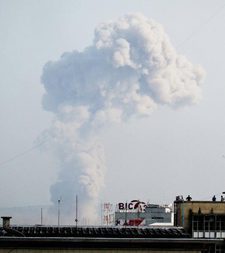 The government called for calm and the defense minister told state radio that the explosions were the result of a fire at an arms depot at the Regiment Blinde base near the city center. Residents immediately fled Mpila, which is a densely packed neighborhood, as a series of smaller explosions continued. A plume of gray smoke still hung over the city hours later.
When the first explosion occurred, Lt. Colonel Daniel Moukoko, chief secretary of The Salvation Army's Congo (Brazzaville) Territory, was in another area of Brazzaville preparing for the welcome meeting of the Messengers of the Resurrection Session of cadets. He reports hearing "at least five or six large explosions, which blew out the windows of our building at Potopoto Corps…One explosion destroyed the roofs of Ouenze Corps hall and officers' quarters and the roof of Talangai Corps hall."
Moukoko said that the Regiment Blinde base and surrounding neighborhood resemble a war zone, with many buildings leveled, burned or badly damaged and the occasional flame still flickering in the debris. According to local reports, many bodies remain at the scene. Weeping relatives of the dead gathered outside the hospital to mourn while others tried to find family members who had become separated in the chaos.
It is not thought that any Salvationists were killed in the disaster but a Salvationist from Ouenze Corps lost three grandsons and her daughter lost a leg. Some Salvationists from Talangai Corps sustained property loss.
Moukoko concluded: "We thank you for your assistance in prayers—we really appreciate them."
Source: The Salvation Army International Headquarters