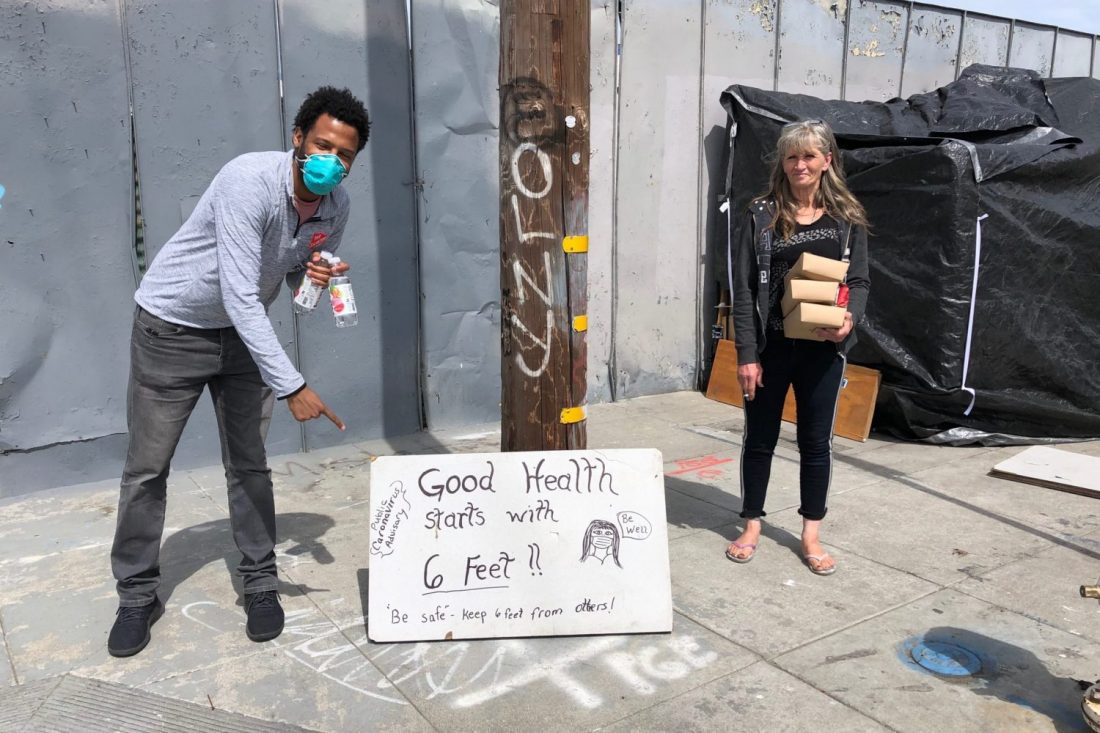 Salvation Army delivers meals to San Francisco's homeless encampments
The Salvation Army and the San Francisco Department of Homelessness and Supportive Housing (HSH) announced the creation of a meal delivery program, MealsinPlaceSF, April 17, to prepare and deliver meals to people experiencing homelessness and living in encampments in San Francisco. The goal of this program is to improve food security and minimize COVID-19 exposure by supporting people living outside and increasing their ability to shelter in place.
Through this program that is designed to contain the spread of COVID-19 by removing barriers to social distancing, The Salvation Army will serve 665 unsheltered people each day at 40 outdoor locations throughout the city.  A Salvation Army team of 23 staff utilizing eight cars will transport and deliver the meals directly to people experiencing homelessness during this pandemic. Individuals will receive two prepared meals and snacks delivered daily, Monday – Saturday. Saturday's delivery will include meals for Sunday.
"As The Salvation Army continues to serve the people of San Francisco during the coronavirus pandemic through its breadth of social services, we're glad to be able to partner with the City on such a creative and collaborative approach," said Captain Matthew Madsen, Divisional Secretary for San Francisco and Divisional Men's Ministries Coordinator. "It's part of our mission to serve the community, especially those in need, during a crisis. And now more than ever those who are unhoused, need the extra care and support that we are equipped to provide every day, and certainly during these trying times."  
The newly launched MealsInPlaceSF program will be implemented for an initial 30 days. In addition to meals, The Salvation Army will be providing optional emotional and spiritual care, as well as distributing hygiene kits and dog food.
"Providing food security directly to encampments and unhoused people struggling on our streets is an essential component in expanding Shelter in Place compliance and enabling the most vulnerable among us to participate in social distancing," said Abigail Stewart-Kahn, Interim Director of the Department of Homelessness and Supportive Housing. "We are grateful to The Salvation Army for their innovative partnership, resources and commitment to making our community safer for everyone during this crisis."
HOW TO HELP:
If you'd like to make a monetary donation, please click here to make a gift.
Text 'GIVE' to 52000 to make a $10 donation to The Salvation Army. This will automatically add a one-time donation to your next mobile phone bill.
For information about volunteering, please visit volunteer.usawest.org.
To learn more about how to support The Salvation Army's relief efforts, please click here.