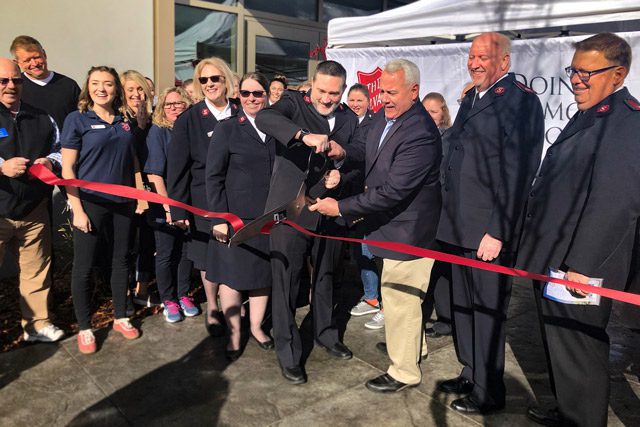 Boise Corps opens new facility
Campus brings corps, social services and Booth Marian Pritchett School under one roof.
By Hillary Jackson – 
The Salvation Army in Boise, Idaho, cut the ribbon Oct. 19 on its new, 45,000-square-foot facility that brings the corps, social services and Booth Marian Pritchett School for pregnant and parenting teens under one roof.
The dedication service was led by Chief Secretary Colonel Doug Riley and supported by the Western Territory Staff Songsters. Representatives from the Army and community leaders also attended.
"I'm just overjoyed to be here," said Boise Mayor Dave Bieter. "I have such respect for The Salvation Army and all that you do in our city, in our whole valley. Without everybody pitching in there is too much to do, but if everybody does a little, we can help all those in need."
The new facility allows the Booth Marian Pritchett School to more than double its capacity to 125 students. It will also allow the Army to expand the support it can provide to enrolled students, including a childcare center and preschool that can accommodate 100 children aging from infancy to 5 years old.
"We hope to be a beacon of hope of Christ's love to those in need," said Corps Officer and Treasure Valley Coordinator Major Michael Halverson before reading John 1:5. "We hope to be that light in Boise—if that be to a young mother who wants to continue her education, or the preschool child who receives special love and education in the new Horizon Academy childcare or the upcoming after-school program that we will have in our gymnasium. If it is one of the 28,000 who receive a food box from our client choice food pantry…whoever that person is, The Salvation Army will strive to be that beacon of light, that beacon of hope to those who are in need."
The ribbon-cutting day was years in the making—the Advisory Board announced the public phase of the campaign to raise $9 million needed for the facility  in 2016. In 2018, construction began on the two-level multipurpose building that boasts eight classrooms, science and computer labs, a home economics room, library, Student Incentives store, auditorium/chapel, commercial kitchen/cafeteria, gymnasium and athletic fields. 
Throughout the facility, simple but powerful reminders of The Salvation Army's mission are incorporated through design choices. Backlit crosses illuminate the facility's street-facing exterior wall at night, and the building's most prominent corner contains a bright representation of a lantern, serving as a beacon to all who pass.