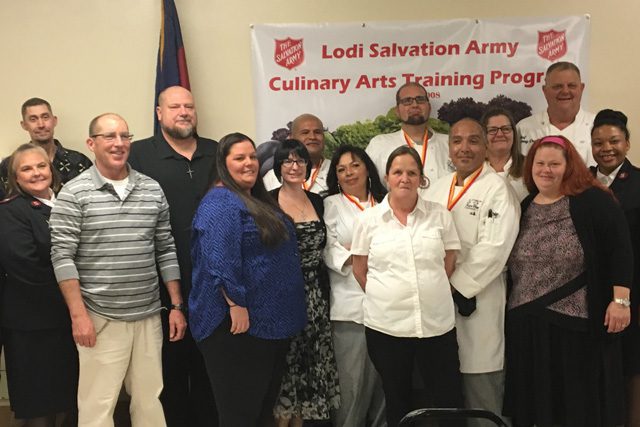 Salvation Army culinary program in Lodi hits milestone
By Syd Fong –
The Salvation Army of Lodi, California, celebrated the 10th anniversary of its culinary arts program this week, which coincided with the 20th graduating class in program history.
Many alumni came out to celebrate the program milestone. Rachelle Nagy, who graduated from the program in May, is currently working at Michael David Winery in Lodi as a prep cook. For many years, Nagy struggled with addiction and wasn't able to hold down a job for ten years. She was also homeless for 10 months.
"[The program] taught me how to be a productive member of society," Nagy said. "I have a life today—I don't have to live out of my car."
The 25 hours-per-week program offers a wide range of academic activities, directed hands-on training in a state-of-the-art kitchen, community field trips to a variety of food service operations, and one-on-one mentoring provided by industry professionals.
Over the last 10 years, 132 people have graduated from the program, and 92 percent of them have gone on to find work. For Barry Crall, who's been the program instructor since day one, seeing his students secure jobs is "the biggest highlight."
"For me, it's been a blessing to see them grow," Crall said. "People wonder what their purpose is, and I know this is mine. It's my ministry."