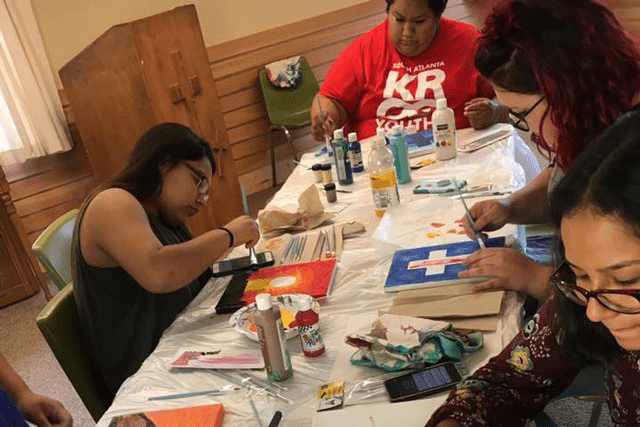 Salvation Army creates interest-based meetups
Groups designed to build intergenerational community across the Western Territory.
By Dave Werstine –
Growing to well over 300 feet, the majestic Redwoods in Northern California and Oregon are the largest trees in the world. But what makes these trees truly remarkable are the roots, which grow horizontally and intertwine with other Redwoods to form a strong "community"—allowing the trees to not only grow, but to become some of the oldest living organisms on earth and an inspiration to many.
In an effort to strengthen community and discipleship, especially in the young adult demographic, the Western Territory developed a program with these trees in mind. In Redwoods groups, people gather to share a common interest or hobby while also spending time talking about and cultivating their faith.  
"It can be sports, video games, hiking, whatever," said Megan Villalpando, Director of Teen and Young Adult Missions in the West. "Their interests are what get them coming…and give them a place to belong."
That belonging—or community—is of vital importance in the Church, but it is something that is lacking, mostly with the young adult demographic.
"We have found that young adults tend to leave the Church after high school," said Villalpando, noting this problem is not unique to The Salvation Army. "There's a gap in our community."
And it's rather noticeable.
"In the corps, we see a bunch of older people and a bunch of younger people," said Captain Caroline Rowe, the Divisional Youth and Candidates' Secretary in the Golden State Division. "We are missing that bunch in the middle."
So, about two years ago, in response to the growing trend, The Salvation Army set out to create a resource that would help young adults find authentic community in their local corps. Research and surveys across the Western Territory found that the thing young adults desired most from their corps was authentic relationships and community.
And the Redwoods program was born.
"We have almost 40 groups signed up at this time," Villalpando said. "That's a positive sign."
Creating a Redwoods group couldn't be easier. An individual simply selects an interest or hobby he or she loves and forms a group with others who share that passion. These groups are interest-based, so they are inclusive of all ages, genders, church backgrounds and so on.
One can sign up online, and the group, under the leadership of the host, meets as often as it wishes, doing the interest or hobby of choice while also spending some time learning from each other and talking about Jesus.
Once a group is formed, it is sent a Redwoods Starter Series, which contains prompts for 10 gatherings with a focus on getting to know each other's stories.  
Brian Qualls, a cadet at the College for Officer Training at Crestmont, put together a Redwoods group that gave him a chance to mentor middle school boys from the Ventura Corps.
"We play board games, eat pizza and talk about God every other Monday," he said. "The boys get to do what they love to do. It's a way for them to enjoy each other."
Qualls, 29, was one of those kids who fell away from the Church as a young adult. He recently returned, but not before looking elsewhere for community and faith. Hosting the group, he said, allows him to be the role model he didn't have growing up.
"The reason I fell away was because I lacked strong relationships," Qualls said. "That's the purpose of Redwoods: to invest in each other. That makes it harder to leave the Church."
Rowe was also one of those quintessential young adults who went to church with her parents, left during her college years, and returned as an adult. In an effort to make sure that doesn't happen to others, she started an online Redwoods group nearly a year and a half ago with young women from California and Oregon who want to delve deeper into the Bible and grow their relationships with God.
"Since we are from different places, we can't meet in person, so we Skype," Rowe said. "We walk through chapters of the Bible together. It's the beauty of technology."
The Redwoods program is in its first phase, according to Villalpando, but creators hope it will continue to grow and eventually reach any demographic, allowing young and old to find intergenerational community wherever they are located.
"The short-term goal is to get to 100 groups," Villalpando said. "The long-term goal is to support healthy church growth."
Find more at sayconnect.com/redwoods.