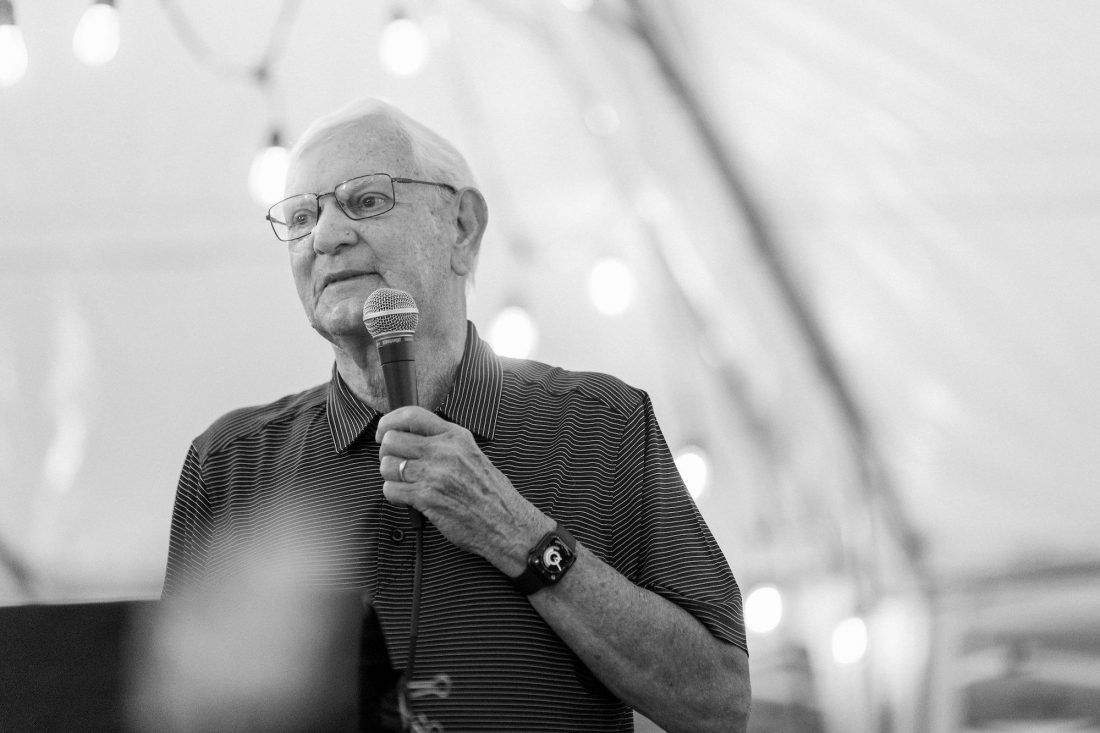 Salvation Army bandmaster reflects on 48 years of volunteer ministry
Ed Freeman's 48 years of music ministry to The Salvation Army
Ed Freeman is a man you can count on.
It's a lesson his father taught him early in life, and one he's never forgotten. It's what motivated him during 48 years of volunteer service to The Salvation Army as bandmaster in Southern California, first at the Santa Ana Corps and then at the Tustin Ranch Corps. Beyond his sense of duty, Freeman understands music's inherent power to draw people into God's presence.
Freeman officially retired this year during an outdoor concert at the Tustin Ranch Corps, where Western Territorial Commander Commissioner Douglas Riley presented him with his retirement certificate. Along with Tustin's current Corps Officers Captains Nesan and Cheryl Kistan, Freeman's former Corps Officers were there to acknowledge his service: Commissioners Joe and Doris Nolan, Lt. Colonels Lee and Michele Lescano, Majors Nigel and Stacy Cross, Majors Ian and Isobel Robinson and Majors Judy and Rudy Hedgen.
"You're a dedicated leader, a visionary leader…It was more than music; music [was] the means to an end," Riley said, adding that it was a way to reach out to people to draw them closer to God.
Freeman was destined for this role. He grew up in a musical Salvation Army family, with both his grandfather and father active in brass bands.
"I thought from the time I was a little kid I wanted to be a bandmaster," he said.
As his first cornet teacher, his grandfather told him if the music doesn't sound right, it isn't right. And from a young age, Freeman could tell when the sound wasn't right.
He said he also heard his dad practice the cornet every day.
"The greatest lesson he taught me was faithfulness," Freeman said. "He told me that, as a band member, if you can't be counted on, what good are you?"
After some success teaching at music camp as a young adult, he was inspired: "That gave me the spark that maybe God had touched me with something that I could do that I was passionate about."
He always remembered that early lesson from his father. Freeman said he kept at it because he had committed to it. "You could count on me. I tried to be the best I could be, with the honor and glory [going] to God and as a testimony of our contribution to the ministry."
Today he passes that life lesson along to young people. "And I tell them, 'Don't be afraid to get it wrong.'"
His former corps officers recalled that he never missed a rehearsal or a concert, even though his job—as Vice President of aerospace corporation TRW Inc. (now part of Northrop Grumman Corporation)—often required travel. Freeman said he'd plan his flights so he could be there for the band, and if he needed to get back to work elsewhere, he'd take a red-eye.
Joe Nolan recalled Freeman's commitment to "evangelism, outreach and corps growth."
"In the eight years we were [at Santa Ana Corps], he never strayed from that commitment, oftentimes sacrificially," he said, remembering how Freeman and Flo, his late wife, were fixtures in the corps. "He and Flo were there, Johnny-on-the-spot, at every event, volunteering to do whatever was needed, including the grunt work. Whatever the corps event, they were always last to leave, part of the cleanup squad. Never critical, fully supportive."
Looking back, Freeman is grateful. "The Lord blessed me that not once in 48 years did I miss an engagement because of illness," he said. Once, he arrived at a rehearsal with a terrible migraine, not sure he could participate. When he stepped out of the car at the venue, however, his migraine vanished, and he was able to carry on.
Along with his sense of duty, he was inspired by the beautiful sound the band created and the knowledge that it added to the worship experience. And he saw how music impacted people's lives and their walk with God, including its influence within families.
Freeman recalled one Sunday when a young girl was enrolled as a junior soldier. Her father, a band member, approached him and thanked him, saying that if Freeman hadn't let him play in the band, he might not have continued coming to church and his daughter might not have been there that day, committing her life to God.
"It's not just about making music; it's making music that touches your heart," Freeman said. "Almost all the music has a spiritual meaning. I could just feel that God's holy spirit was on us as we played…And it's the fellowship. People like to be together, just being a part of something meaningful."
Paradoxically, he had the greatest sense of achievement the few times someone else was leading the band, and he was able to simply listen without being responsible for the different sections.
"I was so blessed to hear the band from a couple of hundred feet away—I could really appreciate the sound. I said, 'Lord, that's what I've been trying to do.' It was a thrill for me."
Why did he retire after 48 years? His late wife wanted him to retire two years ago, but he told her the Lord would tell him when it was time. He struggled with the human desire to make it to 50 years, but he waited for God's prompting.
"It was time…But I miss it. I love making the sounds and the feeling that we made a contribution to the service."
---
Do Good:
Did you know The Salvation Army served 31 million Americans last year fighting hunger, homelessness, substance abuse and more—all in a Fight for Good? Where can you help? Take our quiz to find your cause and learn how you can join in today.
Do you enjoy inspiring stories of impact that build well-being for all? Want to know how to get involved in doing good right where you are? Interested in tools for taking your next best step, owning your story and stepping into your calling? Like reminders that God is good, faithful and offers you joy and peace? Get the Do Good Digest and find weekly inspiration right inside your inbox.
Subscribe to the Do Gooders Podcast and tune in for good ideas. Get inspiration from the experts on how to do good and find meaning along the way—and join thousands in making an impact for good right where you are.