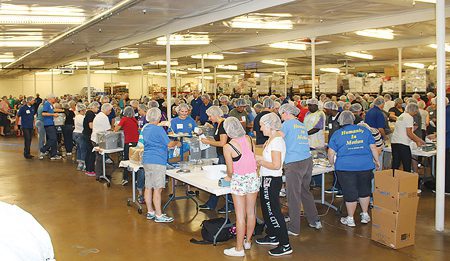 Salvation Army and Rotary International support Feed My Starving Children
Groups celebrate their anniversaries by helping others.
 By  Heather  Howard
The Salvation Army in Arizona joined forces with the Phoenix Rotary 100 Club to celebrate anniversaries—the Army's 120th and the Rotary's 100th—by assembling enough meal packages to feed 272,000 people. More than 1,000 people of all ages from the two organizations volunteered.
"Because The Salvation Army is already in the business of feeding the hungry, and both the Army and Rotary are international organizations, it just made sense to partner in this effort," said Joe Prewitt, Phoenix Rotary 100 centennial chair.
The meals went to Feed My Starving Children, a Christian non-profit organization that packages vitamin-enriched meals to send to children in 70 countries.
"Feed My Starving Children had a really great setup that made the task of packing food both fun and fast," said Glendale Corps Officer Major Adam Morales. "In the 90-minute shift, my table packed 3,623 meals. It was awesome for The Salvation Army, Rotary Club, and Feed My Starving Children to partner together to help starving children."
According to Meghan Borner, senior team leader for the Tempe (Ariz.) location of Feed My Starving Children, each "MannaPack" rice package provides nutritious meals for six children. This one-day volunteer event produced enough to feed more than 700 children for a whole year.
According to Prewitt, there are 40 Rotary clubs in Phoenix, and this was the first time all have been involved in the same project. It's also the first time these three organizations have partnered for a large-scale joint event.
"The coolest part is that it is kids feeding kids," Borner said, "and more than half of our volunteers are under the age of 18."